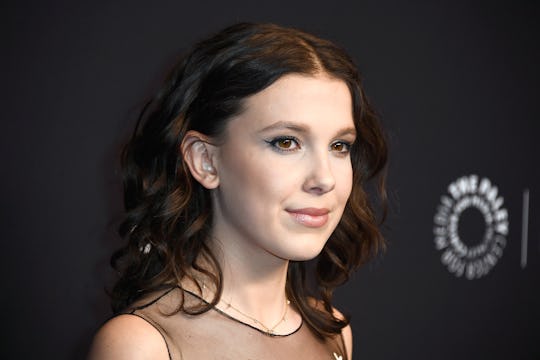 Frazer Harrison/Getty Images Entertainment/Getty Images
Millie Bobby Brown Is Missing The MTV Awards On Doctor's Orders
When the MTV Movie and TV Awards air on June 18, there will be one person conspicuously missing from the red carpet. The kids from the cast of Stranger Things will be walking together as they usually do, but the crew won't be entirely complete. Actress Millie Bobby Brown has confirmed that she's skipping out on the big event, but when viewers don't spot her amongst her co-stars, they may be left wondering: why isn't Millie Bobby Brown at the MTV Awards?
Brown provided an explanation in a video posted to her Instagram account. Unfortunately, she was recently severely injured and attending the award show just isn't a possibility because of that. She opened the video by stating that she'd hit another milestone in her life: she had never broken a bone before, but had recently split her kneecap. Brown then panned the camera down to show viewers the large black cast on her leg. "From the doctor's orders, he told me to rest up," she said. "And that means that I won't be attending the MTV Awards this weekend."
Brown's injury sounds majorly painful — before now, I had no idea one could split a kneecap — but she seemed to be in good spirits despite that. Before signing off, she made sure to wish her cast mates the best.
"But I hope Gaten [Matarazzo] and Caleb [McLaughlin], Finn [Wolfhard], Sadie [Sink], and Noah [Schnapp] have the best time," Brown continued. "And I love them so dearly so I wish you guys the best and I'm sending my luck with you and I'll be there in spirit." Stranger Things will have such a big presence at the ceremony that Brown will surely be missed. The show has been nominated in seven different categories, with Brown specifically getting shout-outs in two. She was nominated for Best Kiss alongside Wolfhard, and earned a nod for Best Performance, too.
There's a good chance Brown will win in the latter category because she took home the honor in 2017. Snagging a Best Performance popcorn two years in a row is a real possibility, but unfortunately someone else would have to accept on her behalf if she does take home the win this year. Brown herself will have to cheer from her cozy couch like the rest of the audience watching from home.
Brown's doctor-encouraged decision to miss the MTV Awards follows her recent departure from Twitter. After being unwittingly embroiled in a meme that combined photographs of her with homophobic or violent statements, she quit the social media platform. Though People reported that the memes were meant to be satirical, they were still highly inappropriate and often accompanied by the hashtag #TakeDownMillieBobbyBrown.
It's understandable that she might need a break from Twitter after that, especially as someone who has supported the LGBTQ community before. At the 2017 MTV Awards, Brown sported two notable pins: one was the blue ACLU ribbon and the other was a GLAAD ampersand. As GLAAD president and CEO Sarah Kate Ellis explained to Variety that the "&" symbol stood for the Together movement. "Together is about showing solidarity and speaking up to resist forces that try to divide," Ellis said.
Brown didn't share how the injury occurred or how long she'd be out of commission because of it, though NYU Langone Health has previously reported that a fractured patella (aka knee cap) could take three to six weeks to heal with additional time needed for physical therapy. It's unclear how serious Brown's situation is, though her cheerful Instagram post makes it seem like it's not too worrying. Hopefully she'll be back to business as usual before long.