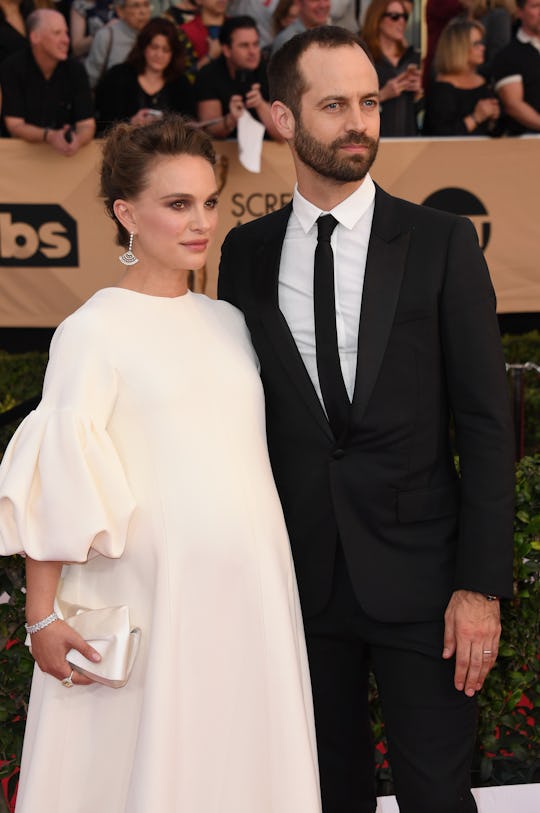 Alberto E. Rodriguez/Getty
Natalie Portman Is MIA At The Oscars For A Reason
On Oscars night, one nominee will not be showing the rest of the world how pregnancy haute couture is done. Why isn't Natalie Portman at the 2017 Oscars? She said in a statement to People that she won't be able to attend the awards ceremony due to her pregnancy, though she's honored to have been nominated in the Best Actress category. Throughout this Oscars season, Portman has been looking ridiculously beautiful (as usual) in some truly stunning pregnancy gowns. Unfortunately, Oscar-watchers won't get the chance to see her grace the red carpet in one of her flowy gowns, as she recently announced that she's not going to be attending.
"Due to my pregnancy, I am unable to attend the Independent Spirit Awards and the Academy Awards," she said in a statement. "I feel so lucky to be honored among my fellow nominees and wish them the most beautiful of weekends." Portman was nominated for Best Actress for her work in the film Jackie, about the former first lady, and is up against Emma Stone, Isabelle Huppert, Ruth Negga, and Meryl Streep (obviously). Of course no one knows who will take home the award yet, but personally I'm glad that Portman is remembering the importance of self-care right now, and doing what's best for her health during her pregnancy.
Portman is currently expecting her second child with her husband Benjamin Millepied. This little munchkin will join 5-year-old Aleph. In fact, the last time Portman won an Oscar was for Black Swan when she was also heavily pregnant with Aleph. It was on the set of this film that she met her current husband.
It's been a few months since the interview, but Portman was already showing back in November when she told Jimmy Fallon that she wasn't as pregnant as she looked. ""It's weird because I'm a small person in general, so you show a lot faster and a lot more when you're small. Everyone thinks I'm about to pop and about to give birth any minute, and I have months to go. I went to the store the other day to buy water and the guy at the checkout counter was like, 'Almost, huh?' I was like, 'No! Not at all!'"
By this time, Portman is significantly farther along. As any woman who has ever delivered a baby can attest, pregnancy is not always about glowing serenely and rubbing one's belly with beatific grace. Sometimes it's just hard work. So if Portman decided to sit this one out, more power to her.