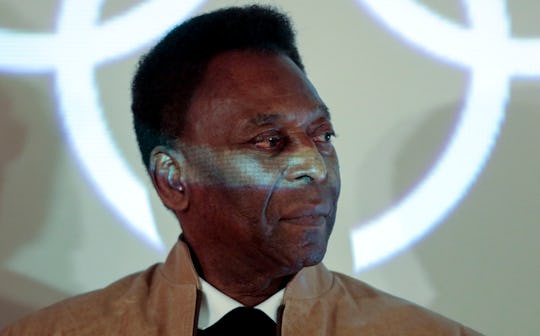 MIGUEL SCHINCARIOL/AFP/Getty Images
Why Isn't Pele At The Olympics? The 2016 Rio Games Are Already Off To A Surprising Start
The entire world waited eagerly to watch the opening ceremony of the 2016 Rio Olympic on Friday night. The ceremony, however, wasn't without some controversy and surprise. As the ceremony started, many viewers were left wondering, "Why isn't Pele at the Olympics?" The question was understandable, as well-known and well-loved the Brazil football legend was reportedly skipping the opening ceremony, according to the BBC. At a time when the entire world is watching Brazil, it seems odd and somewhat sad that such a quintessential and beloved figure would be absent.
The 75-year-old former football star (soccer star, to Americans) was rumored to light the Olympic cauldron, a honor previously held by unbelievable athletes like Mohammad Ali. Sadly, Pele has an injury that is keeping him from attending the games. According to the BBC, the three-time World Cup winner has been suffering from muscle pains and had hip surgery earlier this year. In a released statement, Pele explains his absence, saying:
"I'm not in physical condition to take part in the opening ceremony."
The Brazilian icon went on to explain that, "only God is more important than my health. In my life, I've had fractures, surgeries, pain, hospital stays, victories and defeats. And I've always respected those who admire me." Pele went on to assure fans and viewers that his absence was, in fact, his own decision.
A spokesman for Pele, by the name of Pepito Fornos, added to Pele's announcement, stating, "[Pele] is walking with a cane. The problem is that if he sits in a chair you need a winch to get him out of it."
During the opening ceremony, Pele took to twitter, letting his fans (and, essentially, the world) know that he was there in spirit, even if he couldn't be there in person.
Of course, with Pele's absence, Olympic game fans around the world are left wondering who will have the honor of carrying the torch on its final leg, and lighting the ceremonial cauldron. Doing what the internet does best, opening ceremony viewers took to Twitter to voice their best, most educated guesses (or voice their steadfast belief that, despite numerous reports and multiple confirmations, Pele will, in fact, carry the torch and light the cauldron, regardless), because no one likes to be left in the dark, right?
Here's wishing Pele a quick recovery and, perhaps, a chance to be a part of the closing ceremonies.