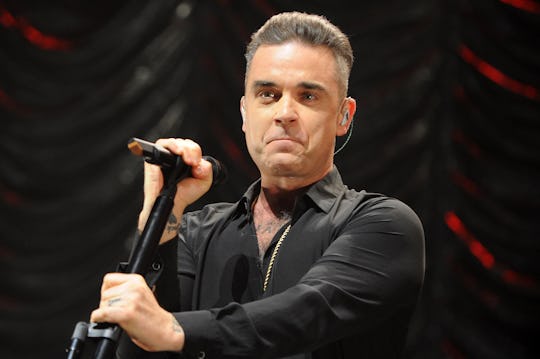 Shirlaine Forrest/Getty Images Entertainment/Getty Images
Robbie Williams Performs Solo At One Love Manchester
Only three members of Take That took the stage for the One Love Manchester benefit concert on Sunday. Noticeably absent was former member Robbie Williams, who did not perform with Take That. However, Williams was slated to sing a few songs on his own. Williams jumped on stage right after Take That and fans were able to see the former bandmates hug it out. Williams even invited Gary Barlow, Mark Owen, and Howard Donald to take a bow with him. It seems like the four men are on great terms with each other, so why didn't Williams perform with Take That? It seems he's focusing focusing on his solo career.
Rumors had been spreading online in the days leading up to the One Love Manchester benefit that Williams would reunite with Take Take on stage. Fans of the band were starting to get excited about the prospective reunion, however, the rumors proved to be false. Barlow was quick to dispute these claims in a fan exchange on Twitter. After one fan tweeted the 46-year-old singer asking about the reunion Barlow responded by simply saying "no." Even though they didn't perform together, it must have been nice for fans to see them on stage together, however briefly, on Sunday.
This concert probably has some serious significance for Take That, including Williams, because it's their home town. The group formed in Manchester back in 1990 as a five-piece group. Williams was the first to leave the group, followed eventually by Jason Orange. Barlow, Howard, and Owen have continued working together as Take That and even have a new song out called "New Day."
Barlow posted a photo of himself, along with his two remaining Take That band mates, with Ariana Grande in the hours leading up to the show. Williams also posted a photo of himself in front of a One Love Manchester poster on Sunday. That was perhaps the final indicator that a reunion really wouldn't be happening between these performers.
Take That took the stage in Manchester early on in the show on Sunday evening. They performed three songs in front of the massive crowd, including "Shine," "Giants," and "Rule the World." Williams came on stage immediately after his former bandmates, performing only two songs. After hugging and bowing with Barlow, Owen, and Howard, Williams sang "Angels" and "Strong."
Whether they reunited on stage or not, it's great to see these four performers return to their hometown for such an important cause. It must mean a lot to everybody in attendance at the One Love Manchester benefit.