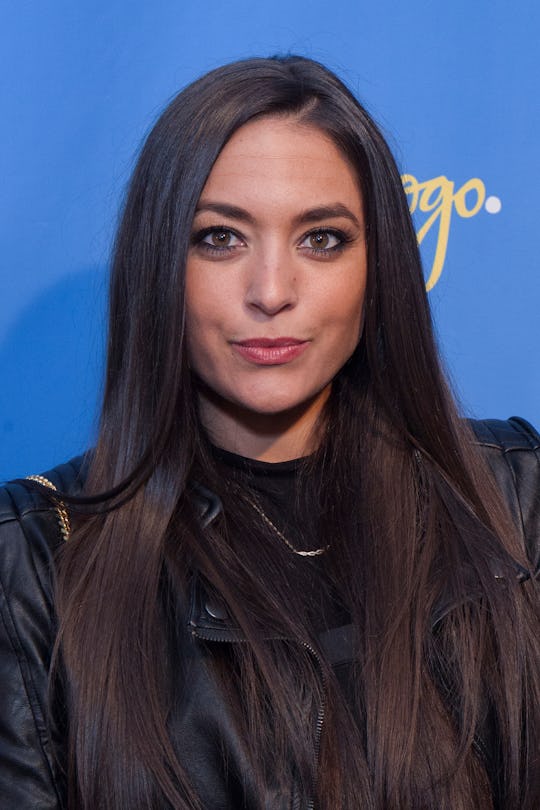 Santiago Felipe/Getty Images Entertainment/Getty Images
Here's Why Sammi Won't Be Appearing On 'Jersey Shore Family Vacation'
Folks, it's almost T-shirt time once more. The Jersey Shore cast is getting back together again for a family reunion. Except not everyone will be returning; Samantha "Sammi" Giancola will unfortunately be absent. So why isn't Sammi on Jersey Shore Family Vacation? She's going to miss chicken cutlet night!
Jokes aside, fans of the series may understand outright why she is not returning. Throughout the series, Sammi was in a tumultuous on again/off again relationship with Ronnie Ortiz-Magro and it could've definitely turned her off reality TV forever. Post-Jersey Shore, Sammi didn't jump to another show like some of her castmates did. Instead, she released her own clothing line in 2013 called Sweetheart Styles. This included clothes, accessories, and her own perfume called Dangerous. In 2016, Sammi began hosting a podcast called "Just Sayin," which boasts that it's "home of the realest relationship talk in podcasting." The last episode is four months old, so it's unclear whether she'll continue it.
Unlike her fellow shoremates who have either had their own reality show spinoff (like Snooki and Jwoww) or have made appearances on other reality shows (like Mike "The Situation" Sorrentino on Worst Cooks in America), Sammi has kept a pretty low profile. But why is she the one cast member not return for Jersey Shore Family Vacation?
A source told E! News that Sammi is not returning to Jersey Shore because, "She's happy in her current relationship and didn't want to be disrespectful of that." On her podcast It's Happening With Snooki and Joey, Snooki also addressed why Sammi isn't coming back. "Everyone's asking why Sammi's not doing it. You have to ask her that — I'm not gonna speak for her," she said. But, if viewers know Snooki, they know she's going to speak anyway. She continued: "But Sammi is just in such a happy place that I feel like she doesn't want to jump back into that drama if it does happen... I just think she doesn't want that anymore."
Snooki said about the same thing the "source" told E! News. Sammi is currently dating Christian Biscardi, another Jersey native (surprise!), so it seems that she doesn't want to see Ron and possibly cause conflict with this relationship. Snooki did mention, though, that she and the other cast members wanted Sammi to come back and fought for her return. She said on her podcast, "We're just like, it's gonna be different. We're all begging her to come back on the show. It's really up to her."
Snooki even pleaded on her podcast for Sammi to come back: "Everyone pray that Sammi comes back, because I feel like she might change her mind. So Sam, if you're listening, come to the show. Like, stop being — stop it. Stop it right now before I spank you."
Well, those threats didn't work, because Sammi won't be back. Sammi herself didn't release a statement about why she's not returning, but it's easy for fans to understand why the idea wouldn't sound appealing for her.
So what does Ronnie think about Sammi not returning to Jersey Shore? "I made a decision and she made a decision, there's nothing I can really say about that," Ronnie said in an interview with TooFab last year. "It's something she chose to do and it's her choice. So you know, as someone who was around her forever, you gotta respect that." He continued that the rest of the cast respects her decision. "If she's happy and she's in an amazing place, God bless her, and we all really do just wish her the best and nothing but good things for her," he said.
Seeing as this is reality TV, I can't help but think about whether Sammi will show up as a surprise mid-season, or if she's truly out for good. Furthermore, Jersey Shore Family Vacation is already renewed for Season 2 — so if Sammi is having second thoughts, she could still come back. For now, though, it seems that she's content with her relationship and her clothing line, and there's nothing wrong with that.
Check out Romper's new video series, Romper's Doula Diaries:
Watch full episodes of Romper's Doula Diaries on Facebook Watch.