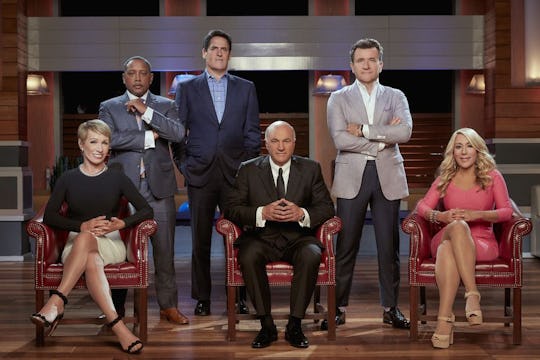 Patrick Ecclesine/ABC
'Shark Tank' Won't Be On This Week, But It's For A Good Reason
If you've ever had a sudden brilliant idea for a consumer product and believed sincerely that you could now become a wildly successful entrepreneur, you probably watch Shark Tank. And if you watch Shark Tank you're probably wondering: why isn't Shark Tank on tonight? Instead of watching hopeful small business owners try to sell Mark Cuban on an idea for robotic dog toys or whatever it is, you're greeted with a bevy of pop stars in sparkly outfits. What is going on here?
It's the American Music Awards of course! A new episode of Shark Tank usually airs on Sunday nights. However this Sunday, the popular reality show will not be airing in order to make way for the annual awards ceremony. The American Music Awards (or AMAs, if you prefer), are not to be confused with the Grammy Awards or the MTV Video Music Awards, or any other genre-specific musical awards ceremony. This particular one celebrates the best and most influential music of the year every fall. It is, after all, awards season. So everyone should probably be prepared for their favorite shows to be put on hold in favor of these many, many awards ceremonies. This year, there's plenty to be excited about at the American Music Awards, especially if you're as addicted to celebrity gossip as I am.
According to the site, "American Music Awards nominees are based on key fan interactions as reflected in Billboard Magazine and on Billboard.com, including album and digital song sales, radio airplay, streaming, social activity and touring. These measurements are tracked by Billboard and its data partners, including Nielsen Music and Next Big Sound." In the year 2017, these nominees include Bruno Mars, who has eight nominations, followed by Drake, Kendrick Lamar, Ed Sheeran, and The Chainsmokers who each have five.
Despite the incredibly male-centric nature of many of the categories, several of your favorite female artists will perform. Demi Lovato, Selena Gomez, Lady Gaga, Christina Aguilera, and, oh yes, Diana Ross will perform. A living legend, Ross will also be accepting the evening's Lifetime Achievement Award, Furthermore, the entire ceremony will be hosted by Ross's daughter and star of the show Black-ish, Tracee Ellis Ross. Sad as I am that Shark Tank is skipping a week, these awards might be worth tuning in if only to watch Queen Diana Ross show these kids how it's really done. I am torn, honestly.
However, if you're not a huge fan of The Chainsmokers and you truly don't care very much how many AMAs Ed Sheeran takes home, you can still get your small business fix. You may not be aware, but Sunday night's ABC time slot is hardly the only time that Shark Tank is on TV. In fact, CNBC often airs the show continuously in the evenings. On Sunday, the network will air back-to-back episodes of Shark Tank starting at 6 p.m. ET and continuing all the way into the wee hours of Monday morning. Sure, there won't be a brand-new episode, but the marathon will revisit some classics from seasons past.
In fact, if you so desired, you could probably watch nothing but Shark Tank every evening of the week on CNBC. In fact, considering the fact that Shark Tank is on almost as often as Law & Order: SVU, why not take a break from the series to watch the AMAs, if only for that Diana Ross performance?
In either case, whether you choose to watch the awards, tune in to CNBC, or just turn in early that evening, a new episode of Shark Tank will be on the following Sunday after Thanksgiving, so you can rest easy.
Check out Romper's new video series, Romper's Doula Diaries:
Watch full episodes of Romper's Doula Diaries on Facebook Watch.