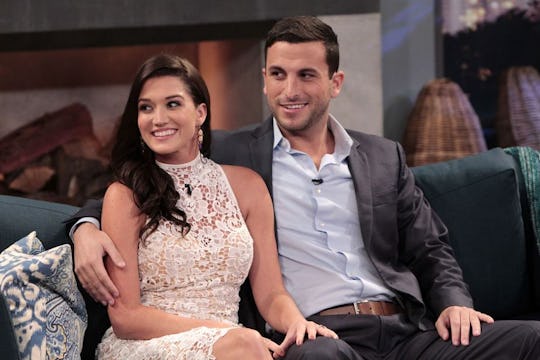 Rick Rowell/ABC
Why Isn't 'The Bachelorette' On? Follow A Different Journey Of Love This Week
Monday nights are meant for one thing — The Bachelor or The Bachelorette. Mondays are rough, but not when you get to watch JoJo fall in love, Chad eat a hell of a lot of deli meats, or tweet about how great Wells is. (I have a favorite, OK?) But, as many fans will realize come Monday night, The Bachelorette is not on June 13. But, why? Who has robbed us of all the good Monday vibes we deserve every Monday night? As it turns out, The Bachelorette may not be on, but there is a journey of love fans can tune into that should fill their hearts with joy.
Not long ago, JoJo began her journey of love in hopes of finding the right man to spend the rest of her life with. It is a big ask, of course, but, as we've learned, sometimes Bachelor Nation angels strike the right angelic chord and we are given a marriage of two Bach contestants. The latter is certainly the case for Jade and Tanner Tolbert, who will be sharing their very special day with America again on June 13 in replace of a new episode of The Bachelorette.
Perhaps the schedule change is because we are in need of a vote of confidence regarding the Bachelor process right about now. Things have been stressful, they've been dramatic, and some people might have lost faith that this show can result in love. But, it can. And Jade and Tanner Tolbert are evidence of that.
On Monday, Jade Roper and Tanner Tolbert's ABC wedding will re-air in place of The Bachelorette. The two were married on the ABC special Bachelor 20 in February — Valentine's Day, to be more specific — after meeting on Season 2 of Bachelor in Paradise. Seriously, these two are proof that this crazy situation can actually work out for some.
The Bachelorette will return the following Monday, June 20. Surely there will be no shortage of drama when the show returns. Will Chad sneak his way back into the process, or will JoJo give him the final cowboy boot?