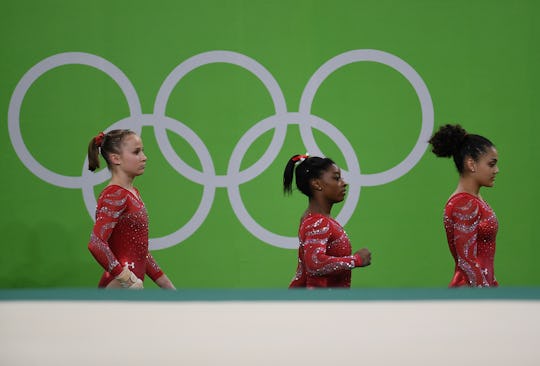 Laurence Griffiths/Getty Images Sport/Getty Images
Why Isn't The U.S. Women's Gymnastics Team Walking In The Rio Opening Ceremony?
This year's United States Olympic team is the biggest it's ever been, and the biggest team at the games. The team also has more women than ever. If you caught Team USA walking in the Parade of Nations during the Rio Olympic opening ceremony, however, you may have noticed that one prominent team was absent: the women's gymnastics team. And this may have you wondering why didn't the women's gymnastics team walk in the opening ceremony?
The reason is pretty understandable: they need their rest for the competition.In an interview with NBC, Martha Karolyi said the women's gymnastics team rarely has time to rest — it is a luxury that's few and far between. "Usually we give a day off," Karolyi said, "and they have several half-days off." It just so happens that the team has a day off the day of the opening ceremony, and they aren't allowed to waste their energy walking in the parade. Especially since they will have to compete in qualifiers on Sunday.
This actually is not the first time women's gymnastics skipped the ceremony; the artistic team members have not participated since the 1988 Seoul Games. Karolyi and their team do not want them tiring out their legs by participating, especially if they are trying to rest up.
The women's gymnastics team is not the only team to skip the ceremony. In an interview with KXAN, diver David Boudia said he might skip the ceremony as well. "Getting 10,000 athletes from the Olympics Village all the way to the Olympic Stadium and back, we'll probably be home around 3 a.m," he said. "So it's whether I can endure that physically."
Because the parade is organized alphabetically by Portuguese, Team USA did not march with the "Us" but the "Es" – as "United States" translates to "Estados Unidos da America." This meant that they were the 70th country out of 207 to walk out, and that they had to stand for more than half of the two-hour ceremony. When you put it that way, you can't blame women's gymnastics and others from watching the parade from the Olympic Village.