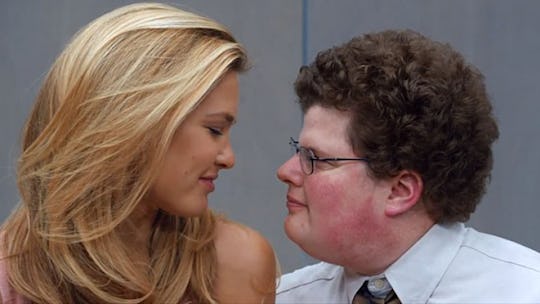 Why Isn't There A GoDaddy Super Bowl Ad This Year? You Won't Find Danica Patrick At Super Bowl 50
Hot dogs and ketchup. Burgers and beers. Wings and blue cheese. These are all things that go together as naturally as GoDaddy and the Super Bowl. After all, each year, hundreds of millions of Americans tune in to the Big Game and see (and, often, complain about) GoDaddy's latest attention-grabbing ad. But things will be different in 2016. Yes, you'll still have your hot dogs, burgers, and wings, but there won't be a GoDaddy ad during Super Bowl 50.
But if a Super Bowl airs, and GoDaddy isn't a part of it, does it make a sound? Wait, that makes no sense, but you catch my drift — since 2005, GoDaddy has been a regular presence at the Super Bowl, so it seems odd that viewers will sit through four-plus hours of the game without one glimpse at Danica Patrick. (So, more accurately, the question should be: If a Super Bowl airs, and Go Daddy isn't a part of it, does Danica Patrick exist?)
The site has gained plenty of attention in previous years for their controversial spots, many of which highlighted their female stars' assets, and one of which got fans especially angry — GoDaddy took their 2015 ad offline after viewers complained the ad, which featured a puppy trying to find its way home only to eventually realized his owners were breeders who sold him, was cruel. (The commercial, which was intended to poke fun at Budweiser's famous and beloved 2015 puppy Super Bowl ad, inspired Change.org petitions to remove the GoDaddy ad.)
So is that why GoDaddy skipped a 2016 spot? Nope. According to the GoDaddy Chief Marketing Officer Phil Bienert via Variety:
The stuff worked ... Now we are at the point where we don't need to grow brand awareness domestically any more. A platform like the Super Bowl is really not something that's necessary for us.
In an email statement to press, GoDaddy echoed that sentiment, saying its moving past being a "megaphone" at the Super Bowl, and is instead focusing on "a more targeted brand of marketing."
And maybe that's the correct decision — after all, not only will they have to deal with confronting the millions of viewers who may have a problem with their annual offering (although, as Fortune notes, that's a strategy unto itself), but, according to GoDaddy, the company's consumer awareness is already over 80 percent. As Fortune writes, "Few brands have had such a lasting impact on the industry." And, to boot, skipping the Super Bowl means skipping the $5 million price tag to advertise at Super Bowl 50.
Now, by looking at data to refine their audience and looking international, GoDaddy hopes to go even bigger.
But will it go better? One could only hope the days of GoDaddy's Bar Refaeli-nerd-kiss ad are far, far behind it. And they could be — after all, the fact that GoDaddy is choosing to opt out of the Super Bowl means they're open to change.
And, for those who will miss GoDaddy's presence? Well, here's guessing at least one company is ready and eager to offend this Super Bowl 50.