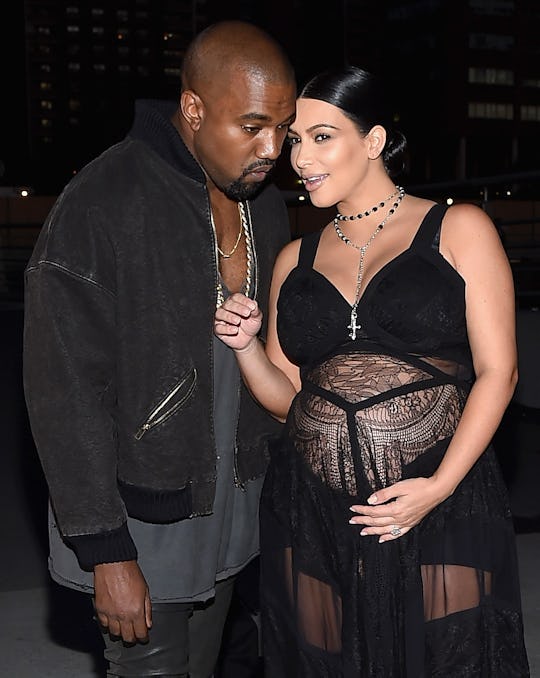 Michael Loccisano/Getty
Why Isn't There A Kanye Kimoji? It's Okay, There's Yemoji
It's been a week since Kim Kardashian transformed all our lives with Kimoji, her new official app of — what else? — Kim Kardashian-themed emojis, and now we have some questions. What's with all the stripper poles? Why is there no churro design? But, perhaps most importantly, why is there no Kanye Kimoji?! Despite the fact that he is not featured, Kanye says he's proud of Kim's "dope" app. The Kimoji app (currently available only for iPhone, iPad and iPod Touch) offers over 250 Kim Kardashian-related emojis and stickers, including selfies, belfies, pregnant-Kim, almost-naked-Kim, ugly-crying-Kim, as well as her beloved waist trainer. But if you're looking for the perfect way to express your love for Kimye in emoji form, you're out of luck: while there are plenty of emojis of Kim's face (natch), the only Kanye-related emojis available on Kimoji are of his Yeezy Boost sneakers, their his-and-hers "just married" leather jackets, and a plethora of luxury cars. Their children, North and Saint, are also absent from the Kimoji lineup — as are, actually, pretty much the entire Kardashian-Jenner fam.
So why don't we have a variety of other Kardashian/Jenner/West faces at our disposal thanks to Kimoji? We don't know for sure, but Kim's already given us one theory: she doesn't feel like sharing! Kim first revealed her plans for Kimoji in an interview with Rolling Stone back in July, when she was still working on narrowing down the designs. While she considered including her famous siblings, she ultimately nixed the idea, saying "I don't want any family members in it. They'll all want a piece."
But while we may have to wait for Kourtney, Khloe, Kendall and Kylie to release their own emoji apps before we can include their faces in our oh-so-important Kardashian-related text conversations (you know it'll happen eventually), there is actually already have another (unauthorized) option when it comes to Kanye. Yemoji, an app of Kanye faces, exists and is available in the iTunes app store, and it is pretty amazing.
And I'm pretty sure my life is now complete.
Images: Michael Loccisano/Getty