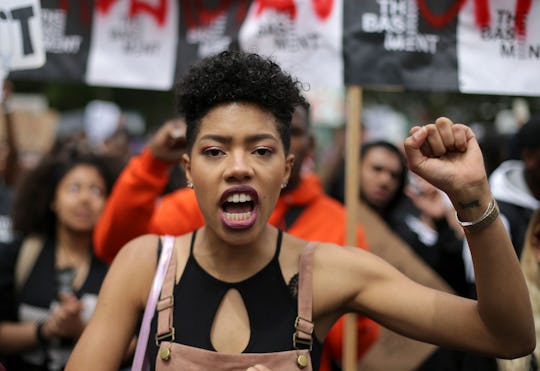 DANIEL LEAL-OLIVAS/AFP/Getty Images
Why Isn't There A Police Brutality Facebook Filter? Its Absence Speaks Volumes
As a new week unfolds, America is still reeling from last week's string of shooting deaths — from the police shooting deaths of Alton Sterling and Philando Castille, to the calculated murder of five police officers in Dallas, Texas. Like in so many other times of tragedy, people have taken their fears, frustrations, and other emotional responses to their social media platforms: Cultural responses to such tragedies have taken the form of hashtags from #JeSuisParis to #OrlandoStrong to #BlackLivesMatter. With the click of a button, Facebook users can show their support and solidarity in the wake of such events with a convenient Facebook filter — but why isn't there a police brutality Facebook filter?
Currently, Facebook offers everything from causes to sports team colors as Facebook profile picture filters, called "frames" by the social media platform. Most of the Facebook filters are centered around sports, from the recent Euro 2016 football tournament to the upcoming Olympic games next month in Brazil. Right now, Facebook users can select one of 36 causes to overlay onto their profile picture — everything from the NO H8 campaign to the Make a Wish Foundation. And yet, it's glaringly obvious that a filter decrying police brutality is noticeably absent from the list of causes — and its absence speaks volumes about how it's easier to tolerate police brutality than acts of terrorism.
It's important to remember that while it may seem like users have always been able to add filters to their profile photos, the profile picture filters feature is still relatively new to the social platform. Facebook filters were first introduced in June of last year, after the Supreme Court ruled the Defense of Marriage Act unconstitutional, effectively legalizing gay marriage in the United States: Users could overlay a rainbow flag onto their profile photo. Facebook's Celebrate Pride filter was then transformed as a way to show solidarity after the terrorist attacks in Paris in November, allowing Facebook users to add the French flag to their profile picture.
Since then, third-party apps such as Rainbow Filter and the older profile picture overlay app Twibbon have given Facebook users the opportunity to support a variety of causes and other moments of global solidarity, such as after the terrorist attacks in Brussels, Belgium earlier this year. Personally, I use Twibbon every year to support National Infertility Awareness Week; I can simultaneously update both my Twitter and Facebook profile pictures in just a few clicks. And while there is a Black Lives Matter Facebook filter on Rainbow Filter, there is no filter to call for the end to police brutality in America.
Say what you will about social media slactivism in the age of the hashtag: There is something to be said when you can scroll through your Facebook feed and see profile picture after profile picture overlaid in causes that are important. The sad reality in America right now, particularly after last week's deaths of Sterling and Castillo, is that police brutality has become as much of a social norm as mass shootings in this country: So far in 2016, there have been over 500 police shootings, according to The Washington Post. That's pretty f*cked up.
So where is the opportunity for people like me to overlay my anger and frustration at police brutality over my Facebook profile picture? Perhaps the answer is far darker than I want to admit — that it's easier for people to rally around the infrequent atrocities of terrorist acts on our home soil than it is the near daily, sobering reality of police brutality in America.
But if Americans want to see any kind of change to this seemingly growing culture of police brutality, it's going to take a lot more than just changing our Facebook profile pictures.