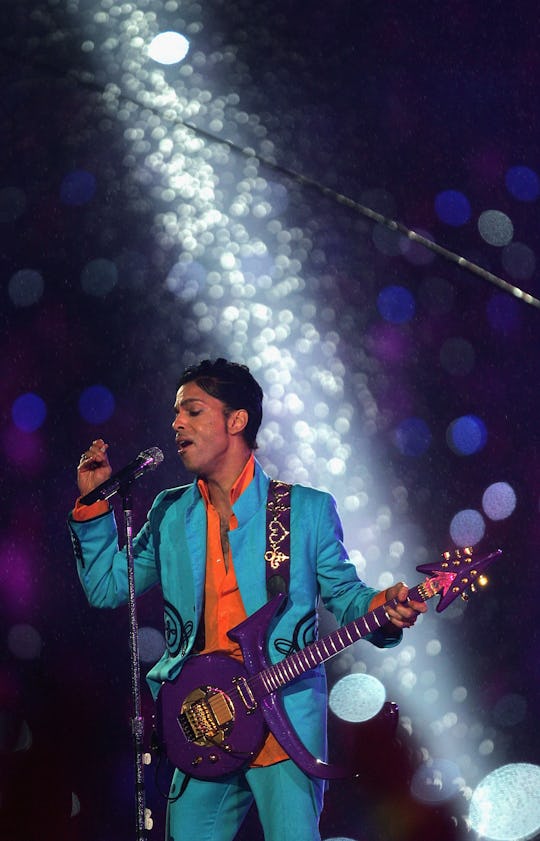 Doug Pensinger/Getty Images Sport/Getty Images
Here's Why You Won't Be Seeing A Prince Hologram In The 2018 Super Bowl Halftime Show
There have been a lot rumors swirling about Justin Timberlake's 2018 Super Bowl halftime performance. Whether it was talk about Janet Jackson taking the stage with him for a reunion after the infamous "Nipplegate" incident or getting *NSYNC back together for one night of '90s boy band magic, there have been a lot of unknowns. But after one rumor sparked heated backlash online, it's been reported that there won't be a Prince hologram in the Super Bowl halftime show during Timberlake's set.
UPDATE: Despite reports that Timberlake would not do a hologram of Prince during his halftime show, his performance did include a "projection" of the pop icon on a large white sheet as Timberlake played on the piano.
EARLIER: Up until Timberlake's halftime performance on Sunday night, much of his performance remained a mystery. However, TMZ reported on Saturday that there would be a hologram of Prince to honor the late legend, who died two years ago in April 2016, in his home state. It sounded like a pretty cool and extravagant addition to what was already expected to be an incredible performance — except for one, very huge oversight. If a hologram was indeed planned for the 2018 halftime show, it seems as though Timberlake's team didn't do all of its research.
As The Washington Post reported, Prince, who had also headlined the 2007 Super Bowl in Miami, had once expressed his thoughts on using holograms to honor deceased musicians. He said, according to The Washington Post, it would be "the most demonic imaginable."
Prince's thoughts on holograms apparently go way back. As reported by The Washington Post, in the October 1998 issue of Guitar World, Prince explained in an interview:
That's the most demonic thing imaginable. Everything is as it is, and it should be. If I was meant to jam with Duke Ellington, we would have lived in the same age. That whole virtual reality thing … it really is demonic. And I am not a demon. Also, what they did with that Beatles song ["Free As a Bird"], manipulating John Lennon's voice to have him singing from across the grave … that'll never happen to me. To prevent that kind of thing from happening is another reason why I want artistic control.
Given that this specific interview is two decades old, it's understandable that this detail was perhaps glossed over. But the "Purple Rain" singers' most diehard fans quickly pointed this out on Twitter after rumors surfaced that Timberlake was planning to pay homage to Prince this way. "Prince told me don't ever let anyone do a hologram of me. Not cool if this happens!" Prince's longtime friend, Sheila E. tweeted on Saturday. In an interview with The Associated Press, Sheila E. reiterated this and explained:
Prince had told me ... don't let anybody do a hologram of him for religious reasons, so I just posted that if this happened it's kind of messed up and not cool.
CNN reported at the time of Prince's death that he was raised Seventh Day Adventist and was later baptized as a Jehovah's Witness in 2003.
Later that day, as CBS News reported, Sheila E. told her followers on Twitter that she had spoken to Timberlake and his team and was able to confirm that there will not be any use of a hologram during the halftime show. "Family, I spoke w/Justin 2nite and he shared heartfelt words of respect for Prince & the Purple fans," she tweeted. "I look 4wrd 2 seeing what I'm sure is going 2 be a spectacular halftime show. There is no hologram."
Of course, there is still the chance that Timberlake will still pay tribute to Prince, perhaps by covering one of the music icon's greatest hits. CBS News reported that "Let's Go Crazy," "Purple Rain," or "1999" could all make their into Timberlake's halftime set tonight. But a hologram? That's definitely off the table.
Check out Romper's new video series, Romper's Doula Diaries:
Watch full episodes of Romper's Doula Diaries on Facebook Watch.