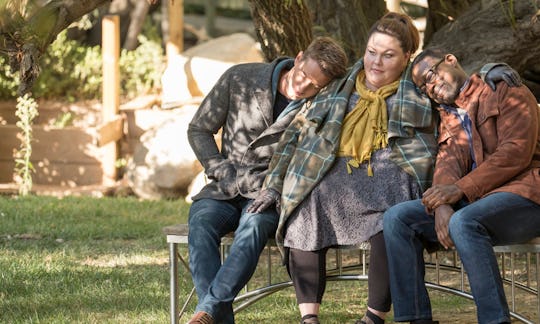 Ron Batzdorff/NBC
'This Is Us' Isn't On Tonight For This *Very* Important Reason
I hate to be the one to break it to you, This Is Us fans, but you'll have to wait another long week before the next "emptying of the tissues" event. I know — it feels like an eternity's passed since you last watched the beloved Pearsons pull your heart out in the absolute best ways, but the Season 3 break comes with good reason. So why isn't This Is Us on tonight, November 6? Because the country needs you to step away from the TV to do something huge (yes, even bigger than This Is Us).
In case you've somehow avoided all sense of time and space — not to mention political ads and robo calls over the last six months — today marks midterm election day which is, in a sense, a holiday of sorts (one where you still have to work and do literally everything else with the added privilege of casting your vote!). It's been two years since the last Presidential election, and though all elections are important, this one is especially crucial. Because of this, all your usual faves (like This Is Us) won't air tonight in honor of tracking election results. Minute-by minute, hour-by-hour, major stations will only cover election day results. And while you may be missing the Pearson drama, heartbreak, and joy, you'll be hard-pressed to find new programming until the election ends. So, don't feel like you're missing out on a major reveal or important episode because it's not happening today. Everyone's taking a break to recognize the importance of this election because, well, there's a lot at stake.
While last week's This Is Us addressed more of Toby's deteriorating mental health and the effect it's having on him and Kate, Kate's pregnancy, Randall's campaign woes, and Kevin's need to understand Jack's time in Vietnam. But this week? Focus all the same This Is Us devotion to the polls. CNN stated that Democrats need to flip 23 seats of the 435 available in order to take control of the House. What does that mean exactly? It means the Trump presidency and Republican agendas are at risk if this happens. If Democrats take the reigns, USA Today said they'll have the power to do a number of things such as "investigate Trump's relationship with Russia during the 2016 election, subpoena the tax returns he has refused to disclose and probe any number of administration actions, from alleged conflicts of interest to claims of profiteering in office."
On the other hand, if Republicans maintain control, there will be more attempts to pass stronger immigration laws (and also to get funding for the border wall), possible middle class tax cuts, and global trade sanctions. Telegraph UK said midterms don't generally have a great voter turnout, compared to general elections. But this time is different. Pew Research Center reported "half of the registered voters have reported being more enthusiastic about voting in 2018 than in previous years — and turnout at the polls had surged in primary elections held across 31 states earlier in the year."
Key states like Florida and Georgia will determine who'll be governor and state legislature seats may impact any possible re-election for a Trump presidency. All of this is to say that, while everyone will miss not having a Dad joke from Randall tonight, it's far more important to watch the future of the country change before your very eyes. Don't worry — Randall's dad jokes will be back and cornier than ever very soon.
This Is Us returns Tuesday, November 13 with a flashback of Jack and Rebecca's road trip to Los Angelas, a continuation of Kevin and Zoe landing in Vietnam to (hopefully) uncover more of Jack's mysterious past, and probably, likely, more tears. And sorry, but you can't vote for Randall (I wish). No matter which side you're on, get out there and vote. Politico has a full list of poll-closing times, beginning at 6 p.m. ET in Indiana and Kentucky, and The Verge has an in-depth voter guide with everything you need to know before you go — including where and how to get free and discounted rides to your polling destination. And whoever you're voting for, This Is Us will soon be back and better than ever.