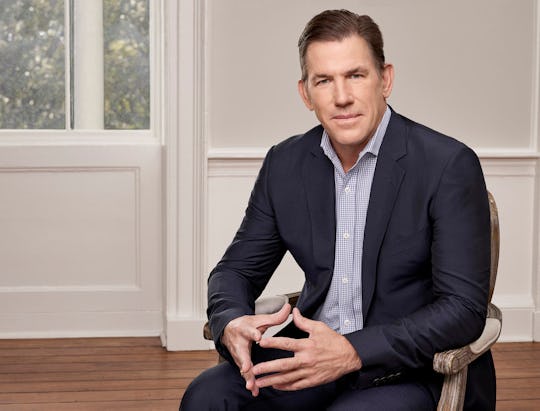 Rodolfo Martinez/Bravo
Thomas Ravenel Won't Be Attending The 'Southern Charm' Season 5 Reunion
When the Southern Charm Season 5 reunion special airs, one member of the cast will be conspicuously absent from the couches. Thomas Ravenel won't be joining his co-stars to talk about the ups and downs of the season despite having been a big part of the drama. So why isn't Thomas at the Southern Charm reunion?
When Bravo's The Daily Dish first confirmed that Thomas would not be present at the reunion, a reason wasn't provided. However, more information soon began to emerge. As People reported, police were investigating allegations of sexual assault against Thomas by two women (one of whom had reportedly gone on a date with Thomas; the other worked as a nanny for Thomas's two children) which appears to be why he isn't attending the reunion. When asked about the allegations by ABC News, host Andy Cohen said that it was a "mutual decision" between Thomas and the network for him not to attend the reunion taping. Romper has reached out to Bravo for comment.
Furthermore, Bravo announced that they were investigating the allegations along with Haymaker, the production company behind the show. Bravo released a statement, printed in Variety, that read:
Haymaker, the production company for Southern Charm, and Bravo take allegations like these very seriously. Haymaker is conducting an investigation, and once all the information is gathered and carefully reviewed, appropriate action will be taken.
While it doesn't seem as though Thomas himself has commented directly on the situation, his attorney Richard P. Terbrusch did provide a statement to People in which he denied the validity of the accusations. After the first woman came forward, Terbrusch said:
My client enjoys a certain degree of fame, which has unfortunately made him a vulnerable target for such claims. The person this woman describes is simply not the man that I know. My client is a loving father, successful businessman, and upright member of the community. He is appalled and hurt by these allegations — and is committed to defending his reputation in the appropriate legal forum.
Further action likely won't be taken until the investigation is concluded, which means that Thomas' future on Southern Charm is uncertain at the moment. Another source close to the network informed People that "no decision has been made yet" about whether or not Thomas will remain part of the cast for Season 6.
One of the alleged victims, known as "nanny Dawn," spoke with People about the decision for Thomas to skip the Season 5 reunion. She agreed that he should not attend, calling it "a small step forward in promoting zero tolerance in regard to sexual misconduct as well as other inequalities." She also said that she would be "eager to initiate dialogue with Bravo" when it came to their investigation. She went on to say:
We need everyone to work together and do all we can to stop sexual violence, etc. As a sexual assault survivor and advocate, I am not asking for respect. I am demanding it. Let's facilitate change. Let victims know that we believe them, and they are not alone. By doing this, we will help victims access and navigate their journeys of healing. I am grateful for those who have supported me through my mine.
The allegations may or may not be discussed at the Southern Charm Season 5 reunion. Legalities might prevent an in-depth conversation about it, but they will surely need to explain Thomas' absence, especially since he factored into so much of the season.
If you or someone you know has been sexually assaulted, call the National Sexual Assault Telephone Hotline at 800-656-HOPE (4673) or visit online.rainn.org.