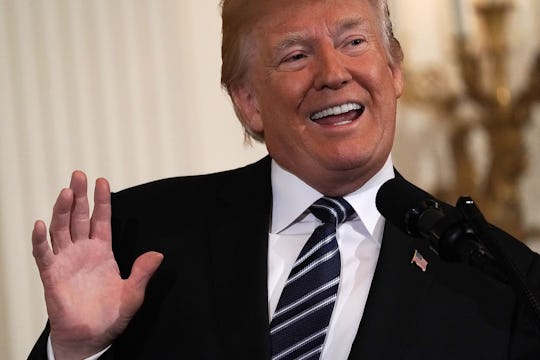 Alex Wong/Getty Images News/Getty Images
Why Isn't Trump At The Royal Wedding? Well, He Would Have Needed An Invitation To Start
The royal wedding is in full swing, which means it's time to drool over the bride's dress, the women's hats, and everyone's soon-to-be-hitched favorite ginger. Oh, and, of course, there's also the guest list. Rumor has it you're bound to see some heavy hitters strolling into the ceremony at St. George's Chapel at Windsor Castle today. But what about President Donald Trump and First Lady Melania. The short answer? No. But why isn't Trump at the royal wedding? Here are the details.
In April, Kensington Palace announced that Prince Harry and Meghan Markle would not be inviting political leaders to the event, "at least not on the basis of their official position," according to CNN. Which means that not only will President Trump not be in attendance, but neither will former President Barack Obama. "Not even British Prime Minister Theresa May was deemed worthy of a place on the guest list," the news website noted.
But the reason the Obamas won't be at today's wedding might have less to do with the "political leaders" rule and more to do with the fact that they just simply could not attend. A source told CNN that the Obamas are close to the royal couple, but would not say definitively whether they had been invited.
"Unlike the wedding of the Duke and Duchess of Cambridge in 2011, this royal wedding is not an official state occasion and is regarded as a private ceremony, so there is no onus on the couple to invite political leaders," CNN noted. In short, some political leaders might be at the wedding, but it won't be because they are political leaders.
Let's also keep in mind that American-born Meghan Markle didn't make it a secret that she supported Hillary Clinton, Trump's Democratic opponent in the 2016 election. "Not to mention Markle has publicly dismissed Trump's rhetoric in the past, calling him 'divisive' and 'misogynistic' during a May 2016 interview on The Nightly Show with Larry Wilmore," according to Newsweek.
Well, there's that coupled with the fact that when Howard Stern asked Trump in a 2000 interview whether or not he would have slept with the late Princess Diana, Trump answered, "Without even hesitation."
Yeah, so just a hunch, but that might also have something to do with why you won't see POTUS in the crowd at today's big event.
The Sun reported that approximately 600 people are invited to today's service with most of the spots reserved for family and close friends of the couple. While you won't spot Prince Louis in the crowd, you might sneak a peek at Prince George and Princess Charlotte (who play a role in the ceremony), as well as Elton John, all five of the Spice Girls, a few of Harry's Army comrades who he served alongside in Afghanistan, all three of Princess Diana's siblings, tennis ace Serena Williams, Indian actress Priyanka Chopra, fashion designer Misha Nonoo, and stylist Jessica Mulroney, according to The Sun. The couple even invited several inspiring British people, including Amelia Thompson, a 12-year-old girl who was caught up in last year's Manchester Bomb Attack.
Especially notable about the chapel where the couple chose to get married is that it's also where Prince Harry was christened in 1984, according to USA Today. Which is ultimately why everyone is tuning in to watch the royal wedding today. We love the history, the romance, and sneaking a glimpse at a culture that we kind of wish we belonged to, right? Sure, the guest list is fun, but it's the British lifestyle, decorum, and fashion that everyone loves the most.