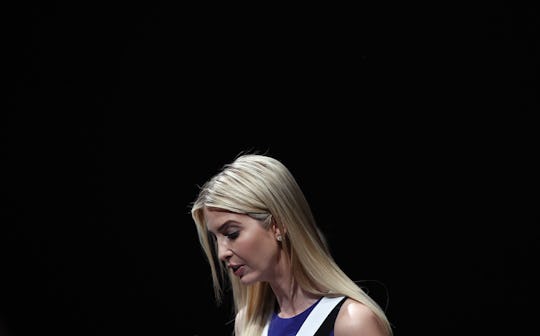 Win McNamee/Getty Images News/Getty Images
Why Ivanka Trump Influencing Foreign Policy Is Terrifying
On Monday, President Trump's son, Eric, spoke to The Telegraph and had an interesting tidbit to share about his father's motivations for bombing Syria last week — namely, that his sister Ivanka's opinion likely influenced the president's decision. And while Eric may have just been trying to help his sister shake off that "hidden influence" controversy that's been following her around lately, his revelation alarmed many Americans, and rightfully so: there's a very good reason why Ivanka should not be influencing Trump's foreign policy decisions.
Speaking to The Telegraph, Eric explained the impact of Ivanka's opinion by saying:
Ivanka is a mother of three kids and she has influence. I'm sure she said: 'Listen, this is horrible stuff.' My father will act in times like that.
Eric likely expected that the quote would help soften criticism against his sister, which has ramped up to a fever pitch lately: Ivanka's role in the White House was recently mocked by Saturday Night Live, and actress Scarlett Johansson took Ivanka to town on Thursday, calling the first daughter "cowardly" for keeping her supposed advocacy secret. However, Eric's words had the opposite effect on Americans, with many of them immediately reacting with understandable shock (and some derision) at the idea of Ivanka influencing foreign policy decisions.
The thing is, Ivanka's resume might be impressive — she was CEO of her own fashion line until January, after all, and she helped run the Trump Organization for years — but it's the kind of CV that's more fit for running a home decor line than it is for weighing in on American foreign policy. In fact, that's not an area where Ivanka should be weighing in at all, and if she did indeed influence Trump's decision to strike Syria, that's both worrying and dangerous. (The White House didn't respond to Romper's request for comment regarding the fact that Ivanka has zero foreign policy or military experience or to the allegation that her sadness led to Trump's decision to strike Syria.)
The United States already has many, many qualified people to advise Trump on issues of foreign policy, and the president should be listening to advisers from, oh, you know, perhaps the National Security Council? Or the military? Or perhaps his secretary of state? (That said, Secretary of State Rex Tillerson's background in oil and gas doesn't inspire much confidence in everyone, either, but at least his job title is more suited to weighing in on Syria and military action.)
Choosing to shoot missiles at a Russia-backed dictator's airbase isn't exactly a light decision to make, and it's one that could carry serious consequences for Americans across the country — not to mention the lives that it ended abroad. It deserves plenty of consideration from top experts in international conflict, because those are opinions that matter. Input from Ivanka, on the other hand? She may be a mother who can empathize with Syrian children, but she shouldn't come remotely close to influencing Trump's foreign policy decisions.