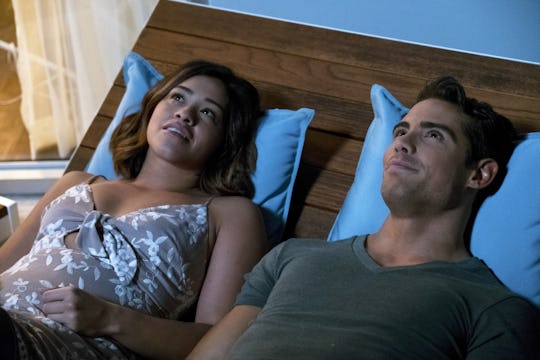 Scott Everett White/The CW
Jane & Fabian's Relationship On 'JTV' Is Actually A Good Thing
Jane and Fabian are officially a go! During last week's episode, Jane first had a crush on Fabian. At first, he thought she wasn't interested, but then started having feelings for her as well. Thankfully, by the end of the episode they figured it out and even kissed. While there were definitely cute moments between them, many fans are still skeptical about this relationship and would rather Michael just came back. Unfortunately, that's not happening and maybe Fabian isn't Jane's next great love, but that doesn't mean he's not good for her right now. Here's why Jane and Fabian's relationship on Jane the Virgin is actually a good thing.
It's been three years since Michael died and this is the first time, not including that brief date with Dennis, that Jane is even open to the idea of dating again. Yes, her interest in Fabian is purely physical, but that's not a bad thing. Michael was the love of her life and it's going to take some time for her to allow herself to feel that way about someone again. Dating Fabian is a good first step.
Moreover, even though they don't have a lot in common, they do have a few things. They both want to be published authors, for one. Yes, Fabian's book is really more of a scrap book of Snapchats but it still counts. Jane's writing is what made him feel connected to her in the first place.
Secondly, based on the preview for the next episode, Fabian is also saving himself for marriage, just like Jane did in the past. Unfortunately for Jane, she no longer wants to wait and is ready to take things to the next level (sexually anyways), but still. Even if Fabian isn't waiting to have sex for the same reasons Jane had (maybe he is — we don't know yet), she'll understand where he's coming from. She's not going to try to pressure him or change his mind because she knows what it's like to be in his shoes.
That isn't to say Fabian will somehow go from being a fling to an actual real contender for Jane's heart. Their relationship probably won't last, but at least with Fabian, Jane will know for sure that's she ready to get back out there. And maybe it'll make her realize that she doesn't actually want a fling, but she does want to find her next great love. So by the time Jane and Fabian are over, Jane may be ready for something a little more serious, and when the right guy does show up (perhaps even in the form of that first love the narrator has talked about), she will be ready for it.