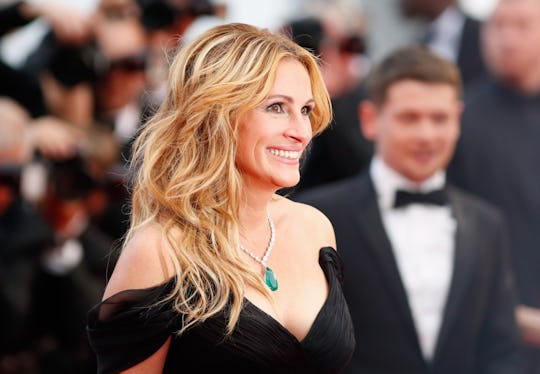 Tristan Fewings/Getty Images Entertainment/Getty Images
Julia Roberts Most Beautiful Woman Win Is Important
Julia Roberts will always be THE Pretty Woman — but as of Wednesday, she's officially the Most Beautiful Woman — for the fifth time, no less. At 49 years old and a mom of three, here's why Julia Roberts winning People Magazine's Most Beautiful Woman Award is so awesome: This is the only the seventh time a woman aged 40 or over has made People's Most Beautiful Woman cover — Roberts first snagged that honor in 2010 when she was 42 years old — and only the third time for a woman over 45. Roberts first topped People's Most Beautiful list when she was just 23 years old in 1991, as she basked in the glow of her success in Pretty Woman.
Jess Cagle, People's editorial director, shared why Roberts made its cover for a record-setting fifth time, in an editor's letter in the magazine's forthcoming issue:
When it came time to choose a cover for the 2017 World's Most Beautiful issue, it seemed that the time was right for Julia Roberts. At 49, Julia has never looked better. Her beauty also lies in her self-assurance and smarts and good humor. It lies in her ability to evolve while retaining the best parts of herself. It lies in her talent for creating characters and telling stories that take us to new places. And it lies in her family-first ethos: Despite all the delights, distractions and temptations of an impossibly privileged existence, nothing ignites her famous smile more than game nights with her kids.
With an endorsement like that from People, I'm pretty sure Julia Roberts should also win the award for "Coolest Mom Ever," too. Roberts is mom to three children with husband Daniel Moder: 12-year-old twin daughter and son Hazel and Finn, and 10-year-old son Henry.
It's awesome to see People recognize a woman as multifaceted as Roberts for their Most Beautiful People cover — five times over, no less. Roberts herself told People, "I'm very flattered." It says a lot about how beauty has aged with Roberts, because standards of beauty really shouldn't be dictated by age alone. See: Gloria Steinem (83), Michelle Yeoh (54), Betty White (95), Oprah Winfrey (63), and Salma Hayek (50).
It's no secret Hollywood has a bias against older women. It's a phenomenon known as "aging out" in the entertainment industry, and there's actually data to support this as more than just a theory held among actresses over the age of 40. Data visualization website Polygraph surveyed over 2,000 screenplays in 2016, and found a startling result: The older an actress, the fewer words she spoke in movies. And that's what makes Roberts's fifth Most Beautiful People cover so important.
Even so, Roberts rocks some seriously flawless skin for her age and her People cover shows off her radiant smile and glow — so it's easy to see why she was chosen to top its Most Beautiful list five times over. I'd argue that wrinkles are beautiful, too (again, see the five other women well over 50 women I listed above) — and it would be awesome to see People choose a woman with visible wrinkles to grace their Most Beautiful Woman cover. For now, let's take what progress we can, seeing as how the last three Most Beautiful People covers have featured women over the age of 45.
People's Most Beautiful People issue hits newsstands on Friday.