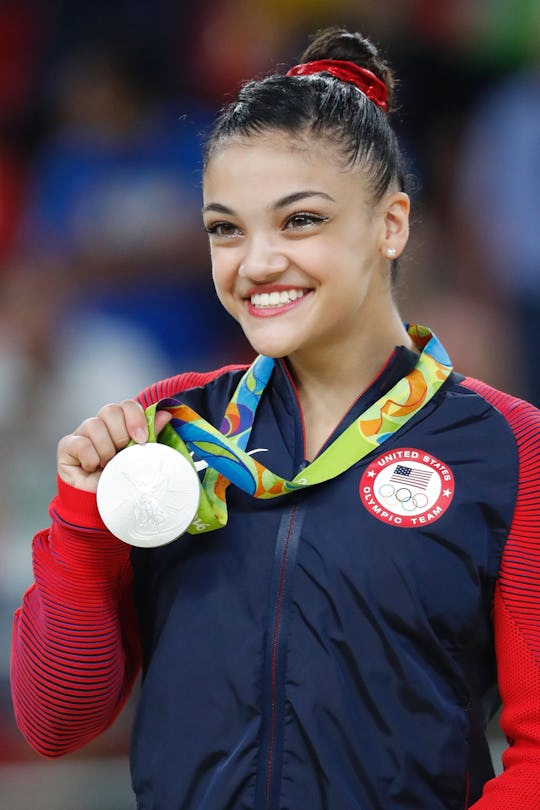 THOMAS COEX/AFP/Getty Images
Why Laurie Hernandez's Silver Medal On Balance Beam Matters
The dominance of the USA Women's Gymnastics Team continued on Monday, with first-time Olympian Laurie Hernandez achieving the silver medal in the individual beam finals, and teammate Simone Biles taking the bronze. The reason why Laurie Hernandez's silver medal on balance beam matters goes beyond the obvious triumph of ascending the Olympic podium. It's an especially poignant achievement for the 16-year-old from New Jersey because she was barred from competing for the individual all-around medal — an opportunity that many felt she deserved.
The five members of USA Gymnastics are so meteorically talented, taken as individuals, that each one arguably could have qualified for the coveted all-around final, in which the top 24 gymnasts compete on all four apparatuses. But due to an archaic and controversial rule in which each nation can send only two gymnasts to the all-around, only Biles and 22-year-old Aly Raisman competed, despite defending all-around gold medalist Gabby Douglas qualifying in third place, behind only her two teammates. And Hernandez? Despite almost certainly having the ability to qualify in the top 24, she wasn't even given the chance.
And so, when Hernandez walked the beam on Monday, it was her one shot to medal as an individual competitor. Her beam routine was as fluid, solid, and effortless as her performances have been throughout the Rio games. She scored a 15.333, which was similar to her score in the qualifying rounds. Typically, this is a score that teammate Biles would best, but Biles was uncharacteristically wobbly. At one point, she even touched the beam with both hands, which is up to a 1-point deduction. Amazingly, even with a point shaved off, Biles scored a bronze-worthy 14.733.
Biles' near-fall was surprising, but her reduced score was understandable. What USA fans were more upset about was that Sanne Wevers of the Netherlands, who won gold, scored a 15.466 for a routine that many felt was inferior to Hernandez's. Indeed, the results were ambiguous enough that the Americans contested her score via an 'inquiry,' which would allow Team USA to see a breakdown of the scoring. The inquiry was rejected, and Wevers' score stood uncontested.
The moment of controversy aside, Wevers' routine was a great one, and Hernandez seemed happy with silver. For the USA gymnasts, the Rio games have been all about sportsmanship and teamwork, especially considering that teammates have been competing against one another for gymnastics' highest accolades. Biles was disappointed in her own beam routine, but was happy for Hernandez; and Hernandez, in turn, has been cheering Biles on since day one in Rio, despite personal disappointment in not competing in the all-around.
With one more event finals — floor — right around the corner, it's a sure bet that Team USA will continue to wow us in style.