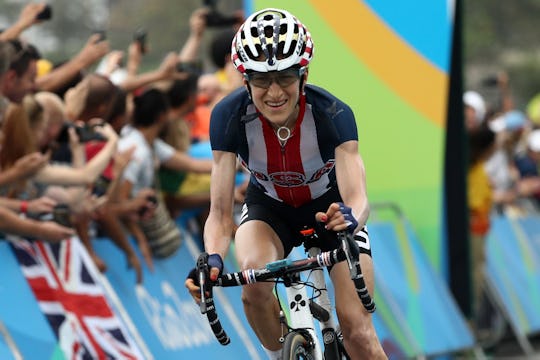 Patrick Smith/Getty Images Sport/Getty Images
Why Mara Abbott's Fourth Place Finish At The Rio Olympics Road Race Still Matters
American cyclist Mara Abbott came in fourth place in the women's road race on Sunday afternoon at the Rio Olympics. Abbott crossed the finish line with a time of 3:51.27 after nearly coming in first place. She broke away from the crowd during the final 10 miles of the race after a descent into Fort Copocabana. After riding solo at the forefront through the town, though, Abbott was caught by three cyclists in the final stretch. This resulted in one last sprint to the finish line in which Abbott fell behind, and ultimately, came in fourth place. Abbott's fourth place finish still matters, though, and is hugely important for both her and Team USA.
This the first time Abbott has been selected to compete for Team USA at the Olympics. Her fourth place finish during the women's road race in Rio also happens to be her best finish in an international competition to date. Not to mention she only finished a mere four seconds behind the three cyclists from the Netherlands, Sweden, and Italy. The three medalists teamed up to overtake Abbott in the final stretch of the race. There were only 100 meters to the finish line when they passed the American frontrunner.
Abbott is best known as a climber, which means she excels in uphill competitions. She gained her initial lead on a hard climb up Vista Chinesa, one of the most daunting parts of the Rio course. It was only after a steep, dangerous descent, in which Abbott lost precious seconds, and after the cyclists hit flat land again that Abbott was finally overtaken. Abbott's strong suit is not flat sprinting, so it makes sense that she may have struggled on the final push. Still, none of the three other Americans competing in the road race finished in the top ten. Abbott's finish, no matter how disappointing, was still something to behold.
While she didn't get the gold, Abbott's story is one of true American perseverance. She's been professionally cycling since 2007 and has won the famous Giro d'Italia race twice. Abbott deals with the pay disparity between men and women's sports in her day to day life, and has to support her cycling career by working at local farmer's market in her home town of Boulder. She briefly quit cycling in 2011 while she was suffering from anorexia. Abbott made her way back to the sport she loves, though, and ended up becoming an Olympic athlete five years later.
Abbott is a great model for little girls to see on TV during these Olympics. She shows them that even the best athletes sometimes have everything working against them. Even when this happens, though, you still show up and do your best. Abbott is a first time Olympian at the age of 30. She made it to the Olympic Games after years of hard work, personal struggles, and even a highly publicized arbitration for her spot on Team USA. Say what you will about that precious gold medal, but Abbott has firmly cemented herself as a hero in the minds of many.
Abbott also captured the overall spirit of Team USA with her fourth place finish in the road race. She kept going even as she fell behind in the last meter of the race and kept things positive, no matter what. I'm looking forward to seeing more of this talented cyclist in the future — and I'm sure little girls and cycling fans across the country would eagerly agree.