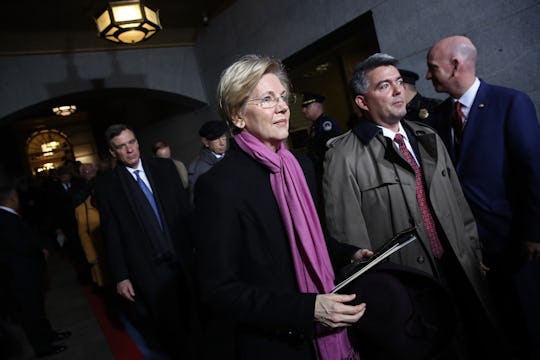 Win McNamee/Getty Images News/Getty Images
Read This Quote About Sen. Elizabeth Warren
In a highly-controversial move, Massachusetts Sen. Elizabeth Warren was formally silenced by the Senate during her floor speech Tuesday night after Senate Majority Leader Mitch McConnell claimed she "impugned the motives and conduct" of Alabama Sen. Jeff Sessions ahead of his confirmation vote Wednesday. The decision to oust Warren from the Senate session led to widespread public backlash, and in an attempt to defend his actions, this viral quote about Elizabeth Warren from Mitch McConnell inadvertently became a battle cry for anyone who felt the Senate had acted unfairly — and for any woman who has continued talking or fighting for something after being told by a man to be silent.
As they did Monday ahead of Education Secretary Betsy DeVos' confirmation vote, Senate Democrats took to the floor Tuesday to argue against Sessions' nomination for attorney general. When it was Warren's turn to speak, she skewered Sessions' immigration views, calling him a "particularly vitriolic opponent of commonsense immigration policies," according to C-Span, and argued that Americans couldn't expect that he would "stand up to the president's campaign of bigotry" if he were attorney general. It wasn't until Warren chose to read a 1986 letter about Sessions by the late Coretta Scott King, however, that McConnell and Senate Republicans formally took issue with her speech.
Warren initially received a warning by presiding Montana Sen. Steve Daines about reading King's letter, according to The Washington Post, and when she continued, McConnell moved to have her voted off the floor. He later argued that his actions were justified, and said, "She was warned. She was given an explanation. Nevertheless, she persisted."
As anger over the Senate's decision spread through social media, the hashtag #LetLizSpeak quickly began trending on Twitter, according to CNN, resulting in countless messages of support for Warren, and condemnation of the GOP Republicans who moved to silence her. But once McConnell's quote began to make the rounds, comments began to pour in highlighting what many saw as yet another example of misogynistic "mansplaining," echoing a message that strong, boundary-pushing women have been subjected to for generations.
Using another powerful hashtag, #ShePersisted, Twitter users repeated McConnell's words, turning a message that was intended to criticize Warren and prove that she was out of line, into a sharp rebuke of Senate Republicans, acting as further fuel for the growing resistance against the GOP and Trump at large.
For many, McConnell's comments were also a reminder of all the brave women who fought their own battles against inequality, and served as an inspirational reminder to not forget those important legacies, or back down from continuing the fight:
The notion that Warren wasn't just silenced for her dissent against Sessions, but for dissenting while reading King's own words seems to give the quote even greater significance. After all, King's entire argument in 1986 hinged upon the idea that Sessions shouldn't be appointed as a federal judge due to his record on civil rights, alleging that, as Alabama Attorney General, Sessions used "the awesome power of his office to chill the pre-exercise of the vote by black citizens," according to The Guardian. Ultimately, Sessions was denied the appointment, making him "only the second nominee in 50 years to be denied by the Senate for a federal judgeship," according to The Washington Post. Sessions office hasn't responded to Romper's request for comment regarding racism allegations, but he has denied many of them in the past.
It's not exactly a stretch to assume that this was definitely not the reaction McConnell hoped to receive when he spoke about silencing Warren, as it seems to have only further mobilized the public's anger and frustration over what many feel has been the unfair actions of the GOP. But now, anyone who may have been needing a reminder of why it's important to keep fighting amidst that unfairness has certainly found one — and from one very unlikely source at that.