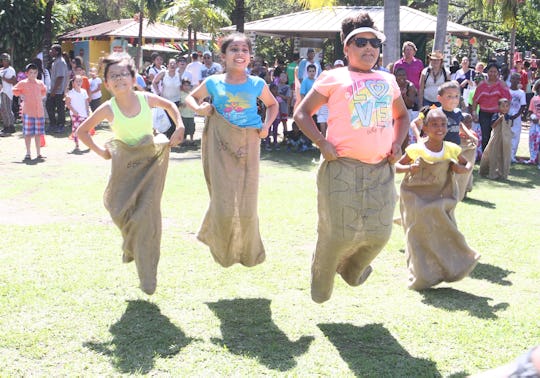 John Parra/Getty Images Entertainment/Getty Images
Why More Summer Camps Should Follow This Jewish Camp's Lead On Including Transgender Kids
A group of seven Jewish summer camps across North America are working to make the Hebrew language more gender neutral. Hebrew is one of the many languages, including Spanish and French, that assign genders to nouns. The Habonim Dror camps had the kids use the Hebrew words "chanich," meaning male camper, and "chanichah," meaning female camper, to describe themselves. The hebrew language did not allow for there to be a gender neutral term for those campers who neither identified as chanic or chanichah. Habonim Dror decided to take matters into its own hands and create a new gender-neutral version of its language to include all its campers. More summer camps should follow Habonim Dror's lead on including transgender kids, because summer camp is one of the first — and, for some, one of the only — places that kids can learn to be themselves.
Camp Moshava, a Habonim Dror camp located in Maryland, worked to create new versions of Hebrew nouns that were gender inclusive. Zev Shofar, a 14-year-old from Takoma Park, has been attending Habonim Dror summer camp for 7 years. according to the Washington Post. Zev does not identify as either male or female, so their counselors came up with a new self descriptor for Zev: chanicol. Habonim Dror decided that -ol would be its singular, non-binary ending. It's based on the Hebrew word Kol, meaning all, according to the Post.
The progressive group of summer camps didn't just stop with the creation of one new word. Camp Moshava went on to rewrite popular camp cheers to fit the new gender-neutral version of Hebrew. They combined the plural masculine noun ending "im" with the plural feminine noun ending "ot". Now all groups of both boys and girls end in an inclusive combination of the two: imot.
Sara Zebovitz, the North American director for Habonim Dror, told The Washington Post that the new version of Hebrew "really reinforces the impact of summer camp as a safe space. Camp has always made it okay to say 'I can be myself here.'" Cultivating accepting environments for transgender children is imperative. Not only because it's right, but because it has a profound effect on their development and mental health.
Pediatrics released a study stating that transgender kids that have their gender identity affirmed by their parents are usually as happy as their peers. Experiencing affirmation in gender identity at a young age helps combat serious issues like depression and anxiety, which come as a result of social stigmatization, discrimination, and prejudice. While this study focuses on the impact of familial affirmation, the findings prove that being accepted has real and lasting effects on people. The news of Habonim Dror working to create inclusive nouns comes on the heels of another major step forward in LGBTQ equality. In May, the federal government told public schools that they must permit transgender students access to the bathroom that corresponds with their gender identity, according to Reuters. President Obama has voiced his strong support of this directive, stating it's in the best interest of the children. He's certainly right about that.
Habonim Dror isn't only working to make trans kids feel accepted, they're equipping they're cisgender campers with the tools to be open minded and loving individuals. Summer camps should feel like a safe haven for the kids who attend them. Habonin Dror is setting the bar high for all the other camps out there. Hopefully they will all rise to the occasion.