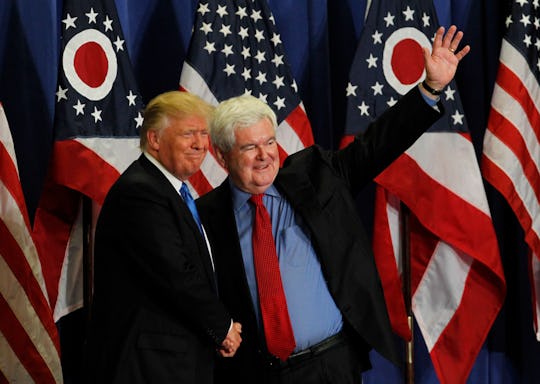 John Sommers II/Getty Images News/Getty Images
Why Newt Gingrich As Donald Trump's Vice President Would Actually Be A Smart Choice
With the Republican convention just around the corner, voters are eagerly waiting to find out who Donald Trump, the party's presumptive nominee, will name as his running mate. Speculation has run the gamut from political outsiders, to Sarah Palin, to Trump's own daughter, Ivanka. But this week, the business mogul reportedly narrowed down his pick to three options: New Jersey Gov. Chris Christie, Indiana Gov. Mike Pence and former House Speaker Newt Gingrich. While most of Trump's choices in general might seem questionable, there are actually a few reasons why Trump selecting Newt Gingrich as his vice president would actually be a smart choice.
It's no contest — Gingrich clearly outweighs his competitors. Mike Pence's intense conservatism will alienate moderate voters. We can all agree, one radical conservative (or at least one parading as one) per ticket is more than enough. Christie on the other hand, while more mainstream, lost most of his appeal for voters during Bridge-gate. Plus, Trump is enough of a drama queen. He doesn't need any help in that department.
Choosing a vice president is like choosing a spouse. The pair should have a common set of goals and values. They should bring out the best in each other without overpowering one another, and they don't need to always agree on everything. Here's why Trump and Gingrich are the perfect fit:
They Have The Same Sense of Humor
Though Trump considers himself an outsider, it's clear he and Gingrich are actually a lot a like. They have a brood of ex-wives, bombastic speaking style and a loaded Twitter presence. Their shared sense of humor is sure to make for a hilarious campaign alone.
They Compliment Each Other
Gingrich builds the bridge to congress that Trump needs. Gingrich can work with Congress to make Trump's wildest dreams, i.e. building a wall with Mexico and halting Muslim immigration, come true. Gingrich knows how to work with both sides of Congress, and Gingrich has proven he is not averse to negotiating with Democrats.
They Are Independent (From Political Favors, That Is)
Unlike Pence, whose candidacy would put him on the map for the first time for many voters, Gingrich has been around the block. He has been out of politics for long enough, and therefore doesn't owe anyone any favors, but he also has the experience of a veteran politician.
A final decision is expected this week. But just like Trump, who has his doubts about the presidency, Gingrich is not sure he actually wants the job. He told NBC he may turn down the position because he " has a lot of things going on right now," including a book and movie deal.
Come on Gingrich, stop playing hard to get. You know it's meant to be.