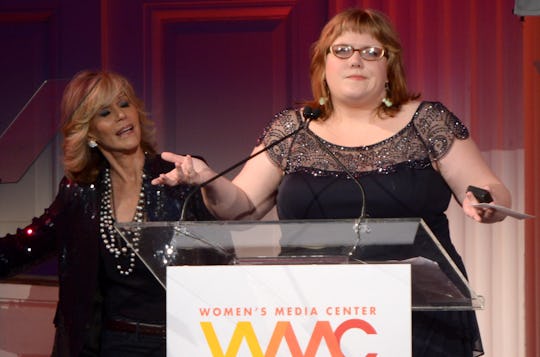 Mike Coppola/Getty Images Entertainment/Getty Images
Writer Lindy West Leaves Twitter, Trolls Respond
2016 was kind of ridiculous, am I right? There were more tragedies than I'd like to think about, and we elected a reality star as president. But some of the craziest things that happened took place on Twitter. Our future president took to the social media platform to express himself, in ways that perhaps weren't the most tactful, and his loyal supporters followed suit. In this wake of online bullying and trolling, more and more Twitter users are saying goodbye to the website. Most recently, writer and activist Lindy West left Twitter, and, ironically, the tweets responding to her decision are already pouring in.
Of course, racists and bigots have always found a way to make their voices heard, but recently, it's escalated to dangerous heights. With the rise of the alt-right movement in the wake of Trump's victory, more and more users have been tweeting highly insensitive, harmful content at anyone and everyone who disagrees with them. And, unfortunately, our future president doesn't exactly use his platform to discourage hate speech, instead calling out innocent people, and setting a firestorm ablaze of hateful replies.
"Trump uses his Twitter account to set hate mobs on private citizens, attempt to silence journalists who write unfavourably about him, lie to the American people and bulldoze complex diplomatic relationships with other world powers," West wrote in the Guardian earlier today. And of course, the hate has already begun.
While Twitter has made attempts to suppress online abuse, most notably by banning notorious neo-Nazis from the site, trolls will always be trolls. West, a well-known fat acceptance activist, has received a ridiculous amount of hate and abuse online, including horrifying sentiments that men "would gladly rape [her] if [she] weren't so fat." But it wasn't the sometimes-anonymous haters that finally caused West to leave the site, it was the overwhelming sense of complacency and a bystanders mindset that sent her over the edge.
As West pointed out, the racists, the sexists, the bigots, and the ignorant aren't the biggest problem, it's "the global repercussions of Twitter's refusal to stop them." West is taking a stand, refusing to take part in a platform so unmonitored, one that is the source of way too much bullying, and has led to an inordinate amount of abuse, and worse. It's a bold move, and one that many emphasize with.
(Romper has reached out to Twitter spokespersons for comment on West's column and is awaiting a response.)
But it's also important. If more writers, journalists, celebrities even, follow West's suit, perhaps Twitter will take a closer look at its policies, and call for a stricter code of ethics.
For now, mixed responses to West's decision seem to still be flooding in. The positive, the negative, and the outright ugly are all present, while most other writers understand the difficult position into which online commentators have forced West. Either way, West's decision to leave Twitter is an important one; Only time will tell if her move can make a difference.