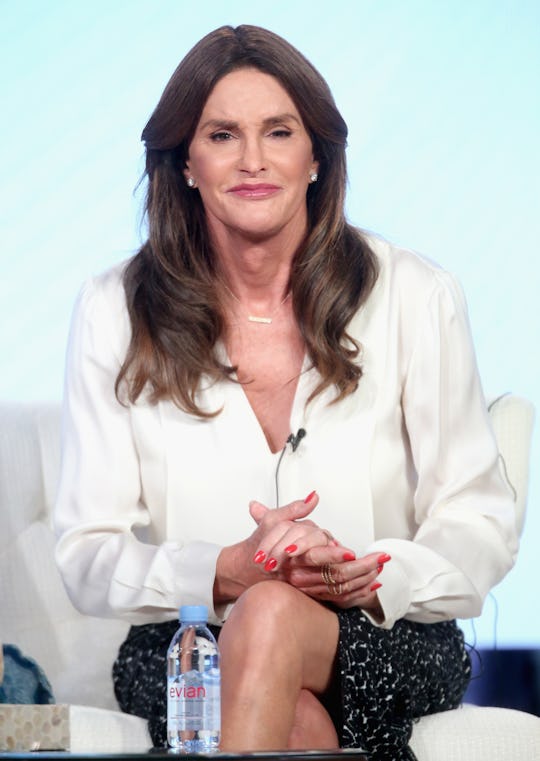 Frederick M. Brown/Getty Images Entertainment/Getty Images
Why Penelope Disick Calling Caitlyn Jenner 'Grandma' Is So Significant
A recent episode of Keeping Up With The Kardashians proved that kids are a lot smarter than we think. In Sunday's episode of the hit reality show, Kourtney Kardashian revealed that her daughter Penelope Disick calls Caitlyn Jenner "grandma," giving the term all new significance. The 3-year-old's title for the former Olympian speaks volumes about acceptance and the simplicity of calling someone by their proper pronouns (I'm pretty sure the toddler never once stopped to debate whether Caitlyn went by "her" or "she" for a second — Caitlyn was just Caitlyn). Even more significant during this exchange was that in little Penelope's eyes, Jenner was exactly the person that she saw herself to be, above all else: a loving woman, parent, and grandmother.
"We were reading a bible book, and the angel in the book was this person with long hair and a white long dress," Kourtney told younger sister Kim Kardashian in the May 22 episode. She continued,
Penelope was like, "That looks like my grandma." I was like, "Which grandma? Bonnie?" She was like, "No." And I go, "Lovie? GG?" And she was like, "No." She goes, "My grandma that came with us to see Zootopia. Caitlyn." So I was like thinking, "I didn't even think Caitlyn was a grandma."
While Kourtney appeared to be a little surprised by her daughter's name for Caitlyn, she also seemed to completely content with her daughter using "grandma." Caitlyn's other children by contrast still refer to Caitlyn as "dad," as they're reportedly still trying to adjust to the transition.
"My dad is my dad, but he's not there physically anymore. But she (Caitlyn) lets me call her dad," daughter Kendall Jenner told E! last September. "That's the last little piece of dad I've got."
Although it's refreshing to hear that little Penelope already knows to call Caitlyn "grandma," it's also understandable that Caitlyn's transition has been hard to adjust to for her adult children and older grandchildren.
In an April episode of Kocktails With Khloé, Penelope's aunt Khloé Kardashian revealed that Penelope's big brother Mason was confused by Caitlyn's transition and had had a hard time adjusting to calling Caitlyn "grandma."
"Mason was uncomfortable, but [would] kind of, like, be distant to Caitlyn, but Caitlyn understood and handled it perfectly," Khloé explained on her show of the oldest grandchild.
As Kardashian clan continues to grow — Rob Kardashian is expecting his first child with fiancee Blac Chyna — the opportunities to discuss and accept Caitlyn's transition and transgender topics as a whole will likely grow as well. While the topic may be difficult to understand for some and hard to grasp for others, little Penelope's innocence and and unconditional love for her grandmother are significant reminders that learning to accept others for who they are really isn't all that hard to do, in the end.