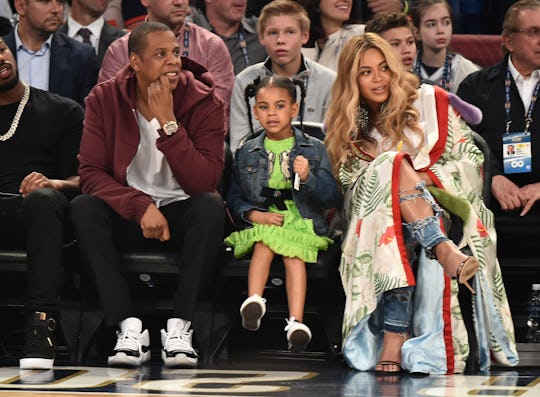 Theo Wargo/Getty Images Entertainment/Getty Images
Why People Hate Beyonce's Rumored Twins' Names
Earlier this week, reports surfaced that Beyoncé gave birth to her twins. Queen Bey has yet to confirm the news herself, but that hasn't stopped rumors from flying around about the birth — like the baby names she and husband Jay Z have allegedly picked. But the monikers haven't gone over well, and why people hate Beyonce's rumored twins' names is interesting to say the least.
According to The Hollywood Gossip, Beyoncé and Jay-Z have allegedly have named their twins Sean and Bea. This news, of course, has been passed on to THG by an unnamed source at the hospital, so take what has been written with a grain of salt. There also seems to be confusion over how "Sean" is even spelled; although THG wrote the forename in the Irish and Hebrew way, other outlets such as the Hollywood Life instead have used "Shawn," which is how dad Jay-Z spells his given name.
Regardless of how it's spelled, most people aren't buying the twins' rumored epithets. And the reason is simple: The names are not what fans would have expected from the power couple. (It should go without saying that Beyoncé and Jay-Z have not made an official announcement.)
As with the names, Queen Bey and Jay-Z have yet to release details about the birth of their twins. Instead, the news has come from undisclosed sources, as well as Beyoncé's father, Mathew Knowles. According to E! News, the elder Knowles took to Instagram and Twitter to announce the birth of his daughter's twins with the messages, "They're here! #beyonce #twins #jayz #happybirthday," and "Happy Birthday to the twins! Love, Granddad." His post was apparently liked by Beyoncé's all-around fabulous mother, Tina Knowles Larson, E! News reported.
Other rumors have swirled about the twins' births since Sunday. On Tuesday, TMZ reported that the little ones were allegedly born premature and have been "'under the lights' to normalize," according to a source close to the family. Sources have also claimed that 35-year-old entertainer, who's already mother to 5-year-old Blue Ivy, had experienced a difficult delivery over the weekend, according to In Touch Weekly.
Of course, fans won't know the truth about the birth until Queen Bey speaks for herself. And that's how it should be. Pregnancy, delivery, and naming your babies are all intimate, private, and deeply emotional acts. And Beyoncé should be the one to let fans in to this part of her life.