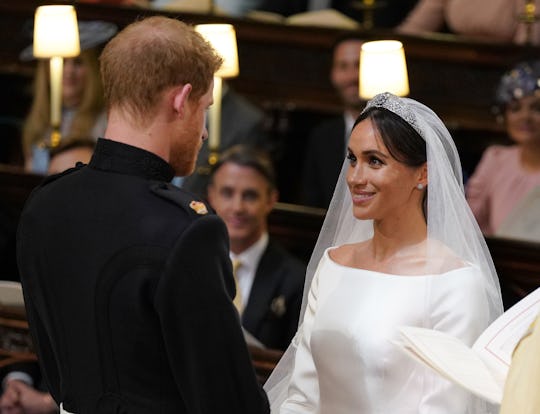 WPA Pool/Getty Images Entertainment/Getty Images
The Sweet Reason Prince Harry Loved Meghan Markle's Makeup On Their Wedding Day
Meghan Markle and Prince Harry's wedding this past May was nothing short of a grand affair. From the flowers, to the location, to the guests (like Queen Elizabeth and Oprah, of course), the wedding was absolutely extravagant. But there's was something that was a little more subdued that day, which Prince Harry seemed to really enjoy and appreciate. In fact, although not every watching from afar agreed, Prince Harry apparently loved Meghan Markle's subtle wedding makeup for a sweet reason.
When Markle walked down the aisle at St. George's Chapel on May 19, people were blown away by her natural beauty, according to Glamour. Markle didn't hide behind a big dress or a lot of makeup. Instead, her boatneck dress, hair in a simple bun, and the radiant glow on her face spoke for themselves. Her makeup was so simple that it really blended in seamlessly with everything else, allowing all of her freckles on her face to be visible. This, of course, was done on purpose by Markle's makeup artist, Daniel Martin and for a good reason — Markle wanted it this way and Prince Harry loved it.
In a new interview with InStyle, Martin revealed that Prince Harry was so grateful to him on the day of their wedding. "After the wedding ceremony, Harry kept saying thank you," Martin said. "He was thanking me for making her look like herself."
It seems safe to say that Prince Harry fell in love with Markle because he loved everything about her, including her natural beauty. Of course, there's nothing wrong with wearing a lot or a little makeup, but it's nice that Markle was able to decide just how much she wore on her special day and that Prince Harry reportedly felt she was being true to herself by doing so. And if you revisit that day in May, you can tell just how blown away he was by his bride's look. For example, as she approached him at the altar, he whispered "You look amazing" to his bride, according to TIME.
Even though Prince Harry loved Markle's makeup, people on Twitter weren't as kind.
But, some people could clearly see that Markle was wearing makeup (because it's pretty hard to wake up with eyebrows that amazing).
But Martin's decision to give Markle a natural look was intentional, and not just because he knew that Markle wanted it that way or that Prince Harry would love it. Martin told InStyle that opting to wear some trendier makeup looks in wedding photos now might be a mistake, since those looks might not be as trendy in 10 years from now.
"At the end of the day, you want to look like your best self," Martin said, according to InStyle.
He has a point. Considering the fact that Markle is now a part of the royal family and made history on her wedding day, according to Reader's Digest, people will be looking back at her wedding photos for decades to come.
One of the best things about Markle is that no matter how much her life has changed since getting married to Prince Harry, she seems to have always stayed true to herself.