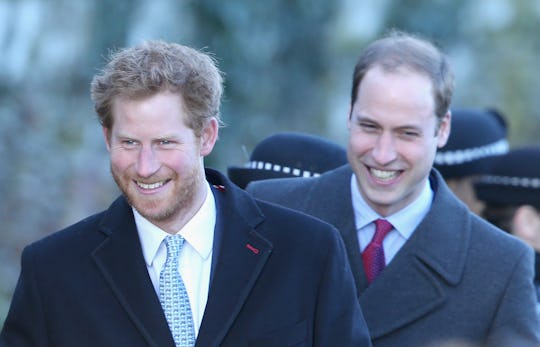 Chris Jackson/Getty Images Entertainment/Getty Images
Here's Why Prince Harry & Prince William's Kids Would Have Different Last Names
Royal names are always a little bit fascinating, being as steeped in tradition and meaning as they are. And the last names of the British monarchy are even more intriguing. Nobody quite knows what they call themselves, or if they actually use last names at all. But it is known that if they decide to use them, Prince William and Prince Harry's kids would have different last names. But why?
Americans are used to long family histories of a surname being passed along by sons. Though that is changing a bit, as more and more women decide to keep their maiden name when they marry, according to The New York Times. Still, it's traditional for a family name to be set by the father and for brothers to share the same last name. But for the British royal family surnames are determined by title, and can change throughout a person's life, according to the royal family's official website.
Prince Harry and Prince William grew up with their last name taken from their father's title as the Prince of Wales, according to Business Insider. That was a title granted Prince Charles when he was young, as it's a title that's traditionally been held by the male heir apparent to the throne, Business Insider reported. Additionally, Prince Harry and Prince William used the name Wales when they were in school and during their military service, In Style reported.
But when the princes married, the queen bestowed on them their own titles, according to People. Prince William became the Duke of Cambridge and Prince Harry, just recently, was named the Duke of Sussex, as People reported. Naturally, that meant that the princes could now start their own traditional family names by using their titles. Prince William is doing just that, a fact that is reflected by the school registration of his oldest son. Prince George started school in 2017 and was registered as George Cambridge, The Express reported. Similarly, Princess Charlotte is known as Charlotte Cambridge at her nursery school, according to Hello! Magazine. Frankly, if I had a last name as regal and dignified as "Cambridge" I'd use it, too.
It's important to note that members of the British royal family who are entitled to be called Her or His Royal Highness aren't required to use a surname at all, according to the royal family's website. But if they choose to, they also have the option of using Mountbatten-Windsor, the website explained. That's the name that Queen Elizabeth and Prince Phillip decided they wanted to use for their own direct descendants to distinguish them from other descendants of George V, who all carry the surname Windsor, the royal family's website explains. In 1960, Queen Elizabeth and Prince Phillip issued a proclamation this new last name, according to the royal family's website, but that does not actually make it a law. So while members of Queen Elizabeth's family can use the name Mountbatten-Windsor, they're not required to.
So if and when Prince Harry and wife Meghan Markle decide to start having children, they really have several choices. They could decide not to use a surname at all. Or, they could follow Prince William's example and use Prince Harry's title — Sussex — as their surname. Or they could choose the family's "declared" surname of Mountbatten-Windsor. Whew, it's confusing, isn't it?
The good news is that there aren't that many members of the royal family to keep track of, and they've done a pretty good job of not repeating first names, creating lots of "Jr.'s" and "the II". But Prince Harry has always been a bit of a rebel. If and when he and Markle decide to have children, they could surprise everyone and choose to mix these naming conventions up in their own way.