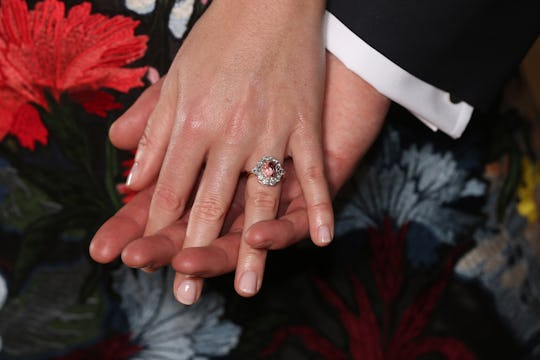 WPA Pool/Getty Images Entertainment/Getty Images
Why Princess Eugenie & Kate Middleton's Engagement Rings Look So Similar
Princess Eugenie is all set to marry Jack Brooksbank in a fancy ceremony at Windsor Castle later this week, an occasion that has already-overworked royal watchers on high alert. But recent photos of the princess flashing her gorgeous ring (and hubby-to-be) have made people notice something: Princess Eugenie and Kate Middleton's center-stone rings look similar to each other. Just why that is, though, is a flashback in royal history.
Eugenie, the Princess of York — her title is given from her dad, Prince Andrew, the Duke of York, and Prince Charles' brother, according to The Telegraph — had expectations when it came to her rock, as the Daily Mirror explained: She wanted a ring like the one her dad gave her mom, Sarah "Fergie" Ferguson, Duchess of York. (Princess Eugenie's folks are divorced, but they remain friendly, pose for pictures, and attend family events together, according to E! News)
Now, it so happens that the ring Prince Andrew gave Ferguson back in the day had a certain look: A vividly-colored center stone, surrounded by pretty clusters of diamonds, with a very majestic quality, according to Marie Claire. That ring looked and felt similar to a piece created just a few years before for another royal couple, Prince Charles and his blond fiancee, Lady Diana Spencer, soon to become Diana, Princess of Wales, as Marie Claire detailed.
And no wonder all the royal jewelry at that time looked related: Both rings were created by Garrard & Co. in the 1980s, as the Mirror noted. Prince Andrew's gift to Fergie was a 1986 sparkler starring a huge ruby, surrounded by 10 diamonds, as the Mirror reported.
Meanwhile, Prince Charles' betrothal present for Diana, given in 1981, meanwhile, was a Garrard creation featuring a 12-carat oval Ceylon sapphire stone surrounded with 14 solitaire diamonds in 18-karat white gold setting, according to Good Housekeeping. The ring was inspired by a wedding gift given to Queen Victoria by Prince Albert on her wedding day in 1840, the magazine added.
Now, cut back to modern times: When today's generation of royals grew up, they naturally wanted engagement sparklers reminiscent of what they saw the 'rents sporting. Thus, Prince William gifted the now-Duchess of Cambridge with Diana's actual ring as a tribute to the late Princess of Wales, according to Vanity Fair. And Princess Eugenie, upon her own engagement, craved a ring like her dad gave her mom, according to People.
In other words, it's a tale of two new rings, looking like two older rings that were made by the same designer around the same time.
It's an easy assumption to think that someone was copying someone else in the royal rings department. But that's simply not the case here. No royal dance-off is needed to settle the score between Prince William and Duchess Kate and Princess Eugenie and Brooksbank. In fact, young royals Prince George and Princess Charlotte are assumed to be attendants in the Friday's nuptials, according to Express.
While the royals are a family like any other, it's important to remember that they have a distinct love of tradition that sets them apart. Following what's been done in the past seems to be important to the Windsor clan, and our idea of relatives competing over certain things probably doesn't correspond. There's more than enough stunning jewelry in the world... and in this family, that's a given.