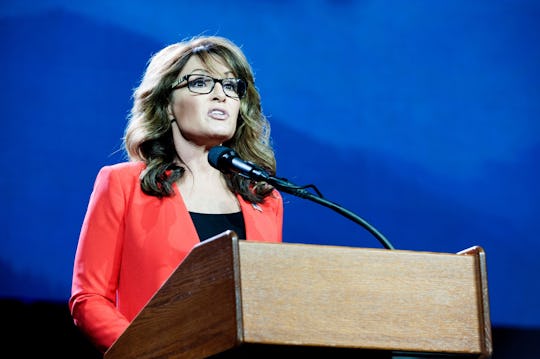 JASON CONNOLLY/AFP/Getty Images
Why Sarah Palin Won't Get A Cabinet Position In Trump's Administration
Sarah Palin very nearly found herself vice president of the United States in 2008 when the Democrat Party ticket of Barack Obama and Joe Biden beat out her Republican presidential running mate Sen. John McCain to take the White House. As a former governor of Alaska, Palin never got the chance to work in Washington D.C. — but as a supporter of President-elect Trump, Palin has gotten the closest she has been to Washington D.C. in years, specifically as one of the rumored contenders for Trump's cabinet. But as Trump continues to pick people for his cabinet, it is becoming clearer why Sarah Palin likely won't get a Cabinet position in Trump's administration for a few reasons — the most recent of which being that the ex-governor just criticized Trump in a very public manner.
Palin has criticized Trump's deal with Carrier — which purportedly kept 1,000 jobs in Indiana instead of moving them to Mexico, but which still sent 1,300 jobs from a second shuttered plant anyway — calling it "crony capitalism." Palin penned an op-ed for the website Young Conservatives on Friday, where she blasted Trump for giving Carrier subsidies to keep some of its jobs within the United States. Palin wrote in the op-ed that she hopes that the Trump team knew what it was risking by providing the subsidies — making it clear that she didn't have the most faith in Trump's decision — and reiterated the Republican values of maintaining a free market and not favoring one business over another.
This is not the first time that someone has criticized Trump over the Carrier deal, but it is the first time that someone rumored to be in Trump's cabinet has called him out over a political decision he has made. What's troubling for Palin supporters is that Trump doesn't exactly enjoy criticism — case in point, Trump's most recent Saturday Night Live tweets — therefore, it's hard to believe that he would be okay with a possible Cabinet pick disagreeing with him, this early on. (Representatives for Palin did not immediately respond to Romper's request for comment on the .)
Just four days ago, it was announced that Palin was "under consideration" for the role of secretary of Veteran Affairs in Trump's Cabinet, according to ABC News. This would be a huge job: According to ABC News, the Department of Veteran Affairs is the largest government agency with thousands of employees and a billion dollar budget. Initially, it seemed as if Palin was very adamant in her desire to secure that position — but now any rumored spot in Trump's Cabinet, if it ever existed, is likely up in the air.
Furthermore, not only would Palin's criticism of Trump make her less likely to secure a Cabinet position, she also lacks the experience to lead the largest government agency, as her only experience in politics is her incomplete time spent as governor of Alaska, and mayor of Wasilla. And if chosen, Palin would be the first non-veteran to run the VA. A lot is riding on the veteran affairs position — according to Politico; Many veterans are fearful of what is to come in veteran affairs from a Trump presidency, which could include the privatization of some of the VA's practices.
Palin is not the only person in the running for the VA position. According to The New York Times, Massachusetts Sen. Scott Brown and former Florida representative and chairman of the House Veterans Affairs Committee Jeff Miller are in the running alongside Palin for the position. With Palin's lack of experience and her recent critique of Trump's first "major accomplishment" in office, it is clear that Palin more than likely won't get a Cabinet position in Trump's administration after all.