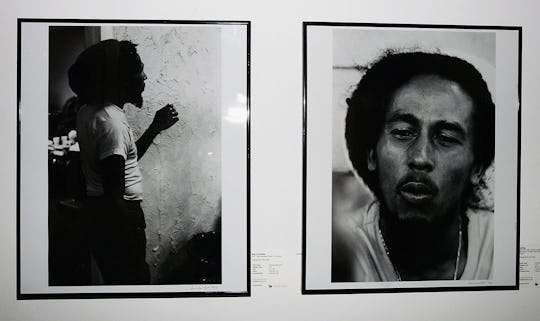 Chris Jackson/Getty Images Entertainment/Getty Images
Why Snapchat's Bob Marley Filter Is Problematic, & Doesn't Accurately Portray His Legacy
Here. we. go. again. It seems every so often, there's a need to have a talk about cultural appropriation and its negative effects. And in today's case, April 20, also known as "4/20," a day celebrated by cannabis smokers, Snapchat created a Bob Marley filter that you might not want to send to your friends. So, here's why Snapchat's Bob Marley filter is problematic.
Marley's legacy is so remarkable that it would be impossible to illustrate it in its entirety in one article (hence why a Snapchat filter just doesn't quite do him justice ... but we'll get there). In fact, historians have spent years studying his influence, and, books like, Catch A Fire: The Life of Bob Marley, by Timothy White for example, takes a deep dive into Rastafarianism or Rastafari, the history of Jamaican politics, racism, colorism, slavery and colonization, as it all relates to Marley's legacy and impact.
Marley, the artist, songwriter, revolutionary and music and world icon, popularized reggae music and used his platform to inspire and to inform the masses about struggle, poverty, injustice and oppression in Jamaica and around the world. His music, his presence, his upbringing, and his actions, like hosting the notable "One Love Peace Concert," in Jamaica in 1978 with political rivals at the time — former Prime Minister Michael Manley and former Prime Minister Edward Seaga — became one of the most remembered moments in Jamaica's music and political history.
And yes, Marley was about smoking "ganja." But for him, he often spoke about it as a spiritual ritual that he embraced, and adamantly discussed how the government used it as a vehicle for social injustice. He practiced Rastafari, an African-centered religion, and his dreadlocks, or locs, were also a part of his identity as a Rastafarian.
So basically, his identity, his locs, religion, smoking ganja, and wearing Rastafarian colors of red, gold, and green (Jamaican colors are black, gold, and green,) all had meaning. But often times, in media and TV, his image gets reduced to just smoking pot and wearing a locs "hairstyle," — no historic context. And many would argue that capitalizing on Bob Marley's image, as New York startup Marley Natural did, goes against the very anti-capitalization and anti-establishment principles he stood for.
And this reduction of Marley to a pot-smoking person who wore locs is problematic and insulting for a few reasons. Snapchat's allows users to apply a filter, which many believe crosses the boundaries of blackface, some calling it "digital blackface," to celebrate smoking pot on 4/20 (a celebration that, according to research by The Huffington Post, appears to have been born in California).
Given 4/20's lack of real connection to Marley, then, some people are asking: are the people morphing themselves into Bob Marley to celebrate smoking pot doing so with his deep legacy and influence surrounding oppression and injustice in mind? Maybe not. And that's the problem. The history is important.
According to an interview with The Huffington Post, a spokeswoman for Snapchat revealed that the filter was made in partnership with the Bob Marley Estate.
"[It] gives people a new way to share their appreciation for Bob Marley and his music," the spokeswoman said. "Millions of Snapchatters have enjoyed Bob Marley's music, and we respect his life and achievements."
But, even with the Estate's reported permission on this filter, we've learned that people (Kylie Jenner for starters?) often cross the line of "appreciation" to "appropriation," and filters like this could help promote those lines to be crossed. And when lines are crossed, as they often are, it means that people are appropriating cultures by mimicking characteristics of a culture that has been and continues to be oppressed. Appropriation essentially supports the erasure of characteristics and experience of one's culture, by trivializing it, without deeper consideration of what that particular characteristic, i.e locs or clothing, means to the history and roots of that culture. And with America's painful history of blackface, an extremely racist and oppressive depiction of black Americans, any resemblance to its practice, as many believe Snapchat's filter to be, should always be deeply considered with historic context in mind.