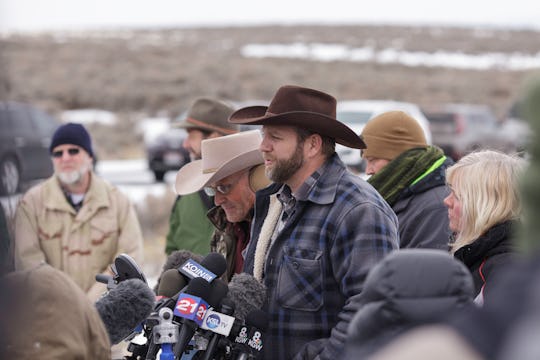 ROB KERR/AFP/Getty Images
Why The Oregon Militia Decision Is Incredibly Confusing & Upsetting
It's no secret that white privilege is a powerful force in America. It's deep-rooted in the history of the United States and it continues to be cultivated in both overt and systemic practices over time. But still, when its dangerous practice reveal themselves on widespread and national platforms, it continues to be a sad reminder of the fantastic adversities people of color face everyday. And last January's Oregon militia standoff is just one of the many examples of how white privilege runs rampant in the States. Here's why the Oregon militia decision is incredibly confusing and upsetting.
As activist and New York Daily News writer Shaun King explains, the outcome of the federal charges against the Bundy brothers and five co-defendants are, really, poignantly startling when you consider the apparent double standard for people of color whose actions are either remotely similar (emphasis on "remotely"... but I'll get there later) or not comparable at all.
For starters, I'm not downplaying the court's surprising decision in itself to acquit Ammon and Ryan Bundy, who led an armed standoff with the five other co-defendants and hundreds of supporters, for 41 days. As Vox reported, it was an intense standoff in which the members demanded the government turn over government-owned land to locals in the community. Many, like John Horning, executive director of WildEarth Guardians, have argued that their acquittals could encourage other militants to follow suit by also using "the threat of violence," Horning told The Washington Post. So the fact that they were acquitted of all federal charges is certainly surprising – apparently even a surprise to the militia's defense lawyers.
But what does this say about privilege?
The Bundy brothers, and the co-defendants, all white, threatened violence, used intimidation tactics, took over and broke into, a federal wildlife refuge and occupied the unoccupied building for 41 days. Not only were the occupiers able to remain in the federal building for weeks (Robert "LaVoy" Finicum was later shot and killed in a confrontation with officers on Jan. 26) they are being completely acquitted of charges. It's an incredible juxtaposition to Black Lives Matter protestors — you know, people protesting against the disproportionate number of unarmed black lives lost at the hands of police — who are routinely arrested at protest demonstrations. Not to mention the grave outcomes in itself for black unarmed Americans who lose their lives to police violence. Many on Twitter were quick to call out the glaring contrast.
And the exercise of privilege certainly is seen with the disappointing comparison to peaceful protesters representing, and in solidarity with, the Standing Rock Sioux Tribe in North Dakota. Protesters have faced attack dogs, pepper spray, and rubber bullets, among other things, for protesting a proposed oil pipeline that would run near their reservation.
Black people, Native Americans, and other people of color, continue to face a disproportionate number of police violence, and incarceration rates. The Oregon militia's stand-off, and their acquittal, when contrasted with the way peaceful Black Lives Matter protesters have been treated, is just another example of how privilege works in American systems.