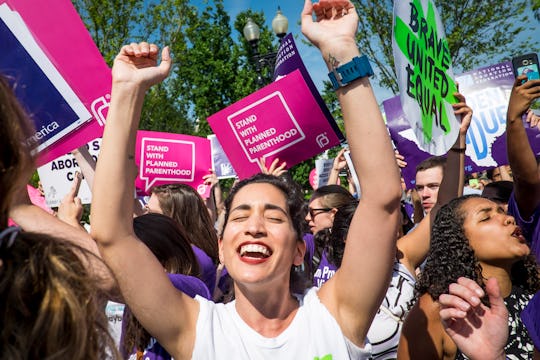 Pete Marovich/Getty Images News/Getty Images
Why The Supreme Court Abortion Ruling Is So Important For Parents
On Monday, the Supreme Court voted in a majority 5-3 ruling to strike down a Texas abortion law in the case of Whole Woman's Health v. Hellerstedt. The Texas Omnibus Abortion Bill, also know as H.B. 2, was an obvious and yet wily device wielded by anti-choice legislators to circumvent a woman's right to choose in the state of Texas. But Monday's decision has so many more implications for more than just women: the Supreme Court abortion ruling is important for parents, too.
Here's the rundown on what led up to Monday's precedent-setting decision: In 2013, Texas passed H.B. 2 — a highly restrictive law that specifically targeted abortion providers. Among the many statutes of the law — including bans on abortions after 20 weeks — it required abortion providers to have hospital admitting privileges no further than 30 miles from where an abortion would be performed. Additionally, abortion clinics were required to meet the same standards as ambulatory surgical centers. The case to stop the law eventually made its way to the Supreme Court. Amy Hagstrom-Miller, lead plaintiff and president and CEO of Whole Woman's Health, said in a press statement Monday:
Today, the Supreme Court affirmed what we at Whole Woman's Health have known all along—that every woman, no matter where she lives, deserves access to compassionate, respectful, and comprehensive care from a clinic she trusts.
But why should all of this matter to parents?
While this might seem like it's just a Texas issue, Whole Woman's Health v. Hellerstedt could have completely changed the landscape for women's access to healthcare had the ruling not been in favor of striking down the law. SCOTUS cases often become the precedent setters for other states from which to take their legal cues. If the hospital admitting privilege and ambulatory surgical center requirements of H.B. 2 hadn't been struck down on Monday, the ruling could have had a chilling effect across all 50 states. The SCOTUS abortion ruling effects every single American — not just Texans.
Abortion seems like it's a medical procedure that shouldn't really affect parents, but it does. Abortion is part of a larger discussion about family planning — a discussion that spans everything from when and if someone has sex, to if they want to have children, to birth control and abortion access. There are a multitude of reasons why parents might choose to have an abortion, from personal decision to medical necessity. It's not up to Texas legislators to make those family planning decisions for parents, and the SCOTUS ruling affirmed that everyone has a say in how they shape their own family — that right wasn't taken away from them.
Before H.B. 2, Texas had 41 abortion clinics. After H.B. 2 went into effect, all but 19 clinics remained open. Clinics operated by organizations such as Planned Parenthood would have had to shutter their facilities had SCOTUS not struck down the two key provisions of H.B. 2. This is extremely important for parents because it means their daughters — and sons — don't have to drive almost 100 miles to get access to some of the basic health care that clinics like Planned Parenthood provide. Planned Parenthood is about more than just abortions: It offers everything from contraception consultation to STI, STD, and cancer screenings.
No matter how old a parent's kids might be, Monday's SCOTUS abortion ruling is an historic moment — one that parents will probably be talking about with their kids years from now.