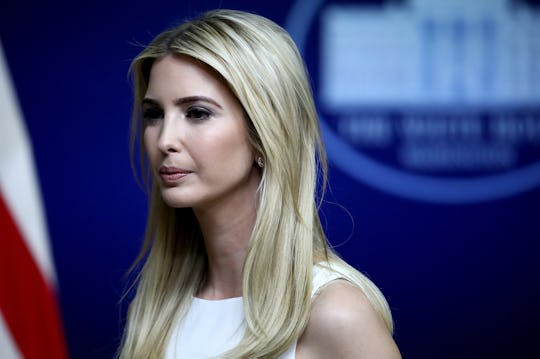 Win McNamee/Getty Images News/Getty Images
Why Ivanka's New Chinese Trademarks Are Weird
On April 6, Ivanka Trump, the president's daughter and advisor, met visiting Chinese President Xi Jinping for a steak dinner at Mar-a-Lago, alongside President Trump and her husband, according to the Associated Press. It was a simple diplomatic dinner, but Ivanka may have had good reason to smile throughout it: Only a few hours before, the Chinese government granted Ivanka's brand three new trademarks in the country. The timing of it all caused more than a few arched eyebrows from those concerned about the murky connections between the Trump family's businesses and their White House doings.
Romper reached out to the White House and Ivanka's brand for comment, but did not hear back immediately. The Ivanka Trump brand's new provisional Chinese trademarks will allow it to sell handbags, jewelry, and spa services in China, according to the Associated Press. And that's just the latest victory for the brand, as well: despite #GrabYourWallet boycotts of Ivanka's company, the brand has hit record levels of sales this year, with imports from China up by about 166 percent from 2016.
Ivanka still owns her brand. According to New York Magazine, she passed control of the company over to executive Abigail Klem — now president of the brand — in March as she attempted to disentangle herself from potential conflict of interest accusations. She transferred the brand's assets to a trust run by her husband's relatives, but remains the sole beneficiary and reportedly receives regular reports from her brother- and sister-in-law, according to The New York Times.
This isn't the first sticky situation Ivanka has gotten caught in. In December, Ivanka attended a meeting with her father — then president-elect — and Japanese Prime Minister Shinzo Abe. At the same time, her company was working on closing a licensing deal with a Japanese apparel company that has large shareholder ties to the Japanese government. The deal was called off after media reported the connection.
By law, federal employees — like Ivanka and her husband, Jared Kushner — are not allowed to participate in government matters that could affect their financial interests, according to the Associated Press. "The danger is that with any discussion with the Chinese, one party or the other may try to bring up trade," Richard Painter, who worked as President George W. Bush's White House ethics lawyer, told the Associated Press recently. "That's a slippery slope that may require her or Jared to step out of the room."
Jamie Gorelick, Ivanka's attorney, disagreed. She said that Ivanka and Kushner had a responsibility to avoid specific details that could affect their businesses, but that subjects as large as Chinese trade policy were fair game. On the Ivanka brand side, Klem told the AP in a statement:
The brand has filed, updated, and rigorously protected its international trademarks over the past several years in the normal course of business, especially in regions where trademark infringement is rampant.
In the past, President Trump has scolded companies on social media for dumping his daughter's brand and counselor Kellyanne Conway once paid lip service to Ivanka's products during a political interview. With a few trip-ups like that, it's no wonder people are curious about the ways in which the Trump family's White House work overlaps with their brands.