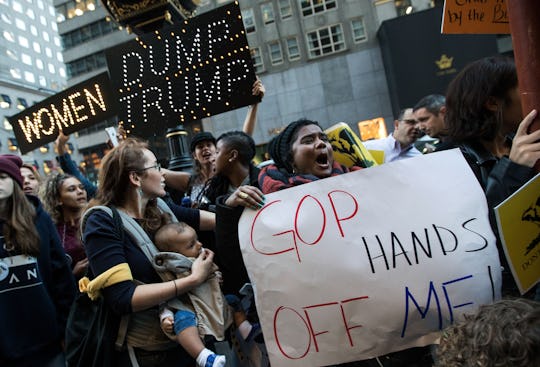 Drew Angerer/Getty Images News/Getty Images
Trump May Cut Violence Against Women Grants
On Thursday, it was revealed that the Trump administration intends to cut trillions of dollars worth of funding to a variety of government programs, including the National Endowment for the Arts and the Corporation for Public Broadcasting. The Department of Justice would also see its Violence Against Women grants eliminated. But the Violence Against Women grants program is so important, especially during the next four years. Throughout the election, Trump supporters established a trend of targeting women in violent attacks, hate crimes (including gender-motivated crimes) spiked after the election, and dozens of women have accused Trump himself of rape, harassment, and assault (Trump has denied the allegations and even said that he doesn't know the women who accused him). Trump's representatives have not responded to Romper's request for comment.
The 1994 Violence Against Women Act authorized 25 grant programs aimed at reducing domestic violence, sexual assault, and stalking by supporting victims, punishing offenders, and educating men and boys to be allies. According to the White House, the rate of intimate partner violence dropped 67 percent in the 16 years following the passage of the act, and intimate partner homicides against women have gone down 35 percent in 13 years. Reports of domestic and sexual violence are resulting in more arrests, and every state in the nation has passed or improved laws against stalking, date rape, and spousal rape.
Under the leadership of Vice President Joe Biden, who introduced VAWA in 1990 as a senator, the program has prevented countless deaths. But there's still more work to be done. Three women still die every day from domestic violence. Simple measures like screening patients in emergency rooms and requiring background checks for handgun purchases could lower that number dramatically. Without funding, not only will new measures not be put in place to keep women safe, the programs that have been proven beneficial over the years will end.
This is a terrifying time to be a woman in America. The president-elect has proven time and again, with both his words and his actions, that he will not be the "president for all Americans" that he claimed to be. He will be a president for Americans who believe that joking about grabbing women "by the p*ssy" is "locker room talk," those who think that campus sexual assaults don't mandate police intervention, and those who would prioritize tax cuts for themselves over those for single-parent families. In the coming days and weeks, Trump's administration will have the opportunity to show that it is somehow pro-women, or it will continue to make cuts like the one dealt to the VAWA grants, and women will turn against him more and more.