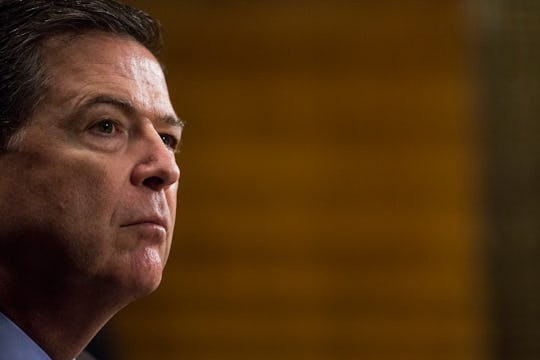 Zach Gibson/Getty Images News/Getty Images
That "Loyalty" Quote From Comey's Testimony Is Weird
On Wednesday, James Comey, former director of the U.S. Federal Bureau of Investigation, released a prepared statement less than 24 hours before he's set to testify in front of the Senate intelligence panel. The 7-page document mostly confirms comments Comey has made about his meetings with President Donald Trump, who fired him abruptly last month. But the statement also reveals the extent to which Trump's needs obedience, which is why Trump's "loyalty" quote from James Comey's testimony is so weird and predictable. The White House did not immediately respond to Romper's request for comment regarding whether Trump said the things Comey claims he did.
Comey's prepared statement details how Trump demanded "loyalty" from the former FBI director as the president faced accusations that he and his allies colluded with Russia in the 2016 election. According to the Los Angeles Times, Trump told Comey that "I need loyalty, I expect loyalty" over a private dinner in late January. The president's comment came after Comey informed Trump he was "not on anybody's side politically and could not be counted on in the traditional political sense," Comey's testimony read.
What happened next is like something out of a political drama or NBC mockumentary. Comey wrote in his statement that, after Trump requested "loyalty,"
I didn't move, speak, or change my facial expression in any way during the awkward silence that followed. We simply looked at each other in silence.
According to the prepared statement, available on the Senate Intelligence Committee's website, Comey told Trump that he believes the FBI and U.S. Department of Justice should be "independent of the White House" because
blurring those boundaries ultimately makes the problems worse by undermining public trust in the institutions and their work.
The message didn't seem to get through to Trump, who Comey alleged asked him to drop the investigation into National Security Advisor Michael Flynn and his ties to Russia, according to Vanity Fair. Comey dropped that bomb a week after he was fired by the president, and reiterated that claim in his prepared statement.
Even though Comey stressed the importance of not running a corrupt law enforcement agency, Trump still pushed Comey to pledge his "loyalty," according to the statement. Comey wrote that he told the president he would "always get honesty." He continued,
[Trump] paused and then said, "That's what I want, honest loyalty." I paused, and then said, "You will get that from me." As I wrote in the memo I created immediately after the dinner, it is possible we understood the phrase "honest loyalty" differently, but I decided it wouldn't be productive to push it further.
If nothing else, Comey's testimony reveals Trump's obsession with obedience and his willingness to burn the world if his employees and allies don't comply. It also seems Trump has a very different idea of what "honesty" means than the rest of the public, and that's to the determinant of every single person in this country.
After all, a president demanding loyalty from the very person tasked with seeking justice is a president not fit to lead the country.