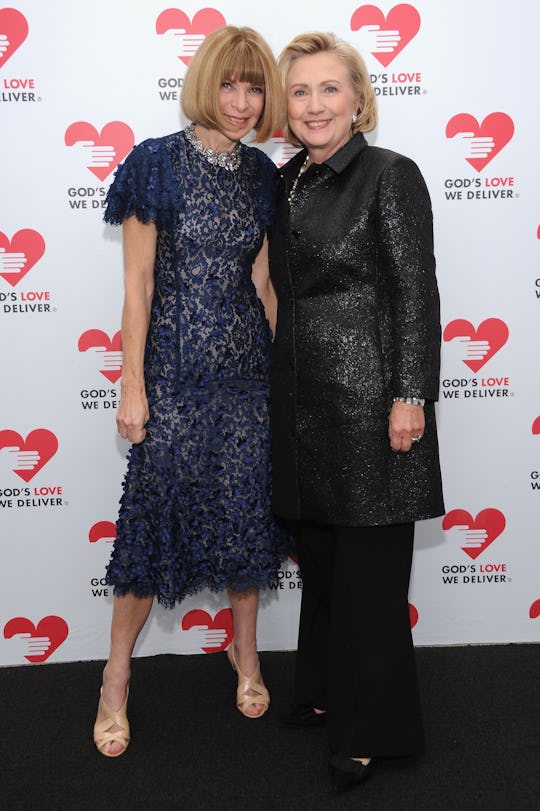 Dimitrios Kambouris/Getty Images Entertainment/Getty Images
Why Vogue's Endorsement Of Hillary Clinton Is So Remarkable
In the latest sign of just how atypical the 2016 election has become, fashion magazine Vogue endorsed Democratic nominee Hillary Clinton for president in an editorial on Tuesday, marking the first such political endorsement in the magazine's long history. The editorial notes that it was time for Vogue to step away from neutrality given both "the profound stakes" of the election, and "the history that stands to be made." It's a remarkable endorsement, albeit not an altogether surprising one.
The editorial board writes that, throughout all the madness of this election, "the question of which candidate actually deserves to be president has never been a difficult one." It praises Clinton for "her fierce intelligence and considerable experience," while acknowledging that she has not always been a perfect candidate. And in response to the widening rifts and dissatisfaction throughout the country, the editorial board writes,
Two words give us hope: Madam President. Women won the vote in 1920. It has taken nearly a century to bring us to the brink of a woman leading our country for the first time. Let's put this election behind us and become the America we want to be: optimistic, forward-looking, and modern.
Ultra-intimidating Vogue editor Anna Wintour (aka the woman upon whom Meryl Streep's character in The Devil Wears Prada was allegedly based) has made no secret of her support for Clinton, even hosting a major fashion fundraiser for her. And in the past, as the magazine says, editors in chief have openly supported one candidate over another. An official magazine-wide endorsement, though, is history-making.
Fashion magazines don't often take huge political stances like this. It's a risky move for Vogue to potentially alienate its more conservative readers. But Vogue's unorthodox-yet-principled stance is indicative of a larger trend in this election.
This year has seen a spate of previously-neutral publications coming forward to endorse Clinton, or at least to endorse voting against Donald Trump. These include USA Today and Wired, with The Atlantic making its third-ever presidential endorsement in its support for Clinton. (She's in good company, with Abraham Lincoln and Lyndon B. Johnson being the only other two candidates to receive the magazine's official backing.) Some staunchly conservative newspapers like The Arizona Republic have broken with decades of tradition to endorse a Democrat. And all five living presidents have either backed Clinton explicitly (the Democrats), or at least refused to back Trump (the Republicans).
Meanwhile, Donald Trump has endorsements from... The St. Joseph News-Press, The Santa Barbara News-Press, and Scott Baio. Not quite as high-profile as Anna Wintour.
Yes, everyone wants endorsements. But in 2016, at least, it seems Clinton is the one mostly getting them. Who knows what surprising publication or person will come forward to back her next?