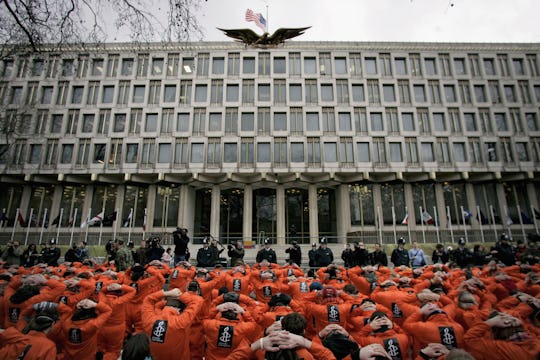 Bruno Vincent/Getty Images News/Getty Images
Here's Why This Baby Was Questioned For Terrorism
Air travel is always a pain, and flying with a baby can be a nightmare. And that was certainly the case for one British family recently — and the trouble started up before they made it onto the plane with a 3-month-old in tow. That's because the baby was questioned for terrorism before he was allowed to fly from Manchester, England, to Orlando. How could this be? Even though he's hardly old enough to hold up his own head, Harvey Kenyon-Cairns ended up at the U.S. embassy for what must have been an unproductive interrogation after his grandfather mistakenly identified him as having been involved with terrorist activity on a visa waiver form.
The Guardian reported that Harvey's grandfather, Paul Kenyon, accidentally checked "yes" instead of "no" for Harvey to the question on the form that reads "Do you seek to engage in or have you ever engaged in terrorist activities, espionage, sabotage, or genocide?" As a result, the baby was denied travel, and instead was required to make what turned out to be a 10-hour round trip from his home in Cheshire to the embassy in London so that U.S. officials could question him.
According to The Telegraph, Kenyon traveled to the embassy with his daughter, who is Harvey's mother, and Harvey on a Monday, and they cleared up the situation. Still, the visa ultimately didn't arrive in time for Harvey to head to Florida with the rest of the family that Thursday.
That didn't stop Kenyon from finding some humor in the situation, though. Because, really, what else can you do but joke a little when a 3-month-old's first overseas vacation ends up derailed because officials need to make 100 percent certain he's not a terrorist? Here's what Kenyon told The Guardian:
Baby Harvey was good as gold for the interview and never cried once. I thought about taking him along in an orange jumpsuit, but thought better of it. They didn't appear to have a sense of humor over it at all and couldn't see the funny side. He's obviously never engaged in genocide, or espionage, but he has sabotaged quite a few nappies in his time, though I didn't tell them that at the U.S. embassy.
Parents who fly with babies often worry about incurring the wrath of other passengers if their babies cry en route. I really, really hope that Harvey's parents didn't get any side eye from their fellow travelers when they did finally head to Orlando a few days behind the rest of the family. After all, the mistake had already caused them one serious headache, and ended up costing Kenyon nearly $4,000 to rebook the missed flights.
If nothing else, Harvey's will have the very best travel story of all time as he grows up.