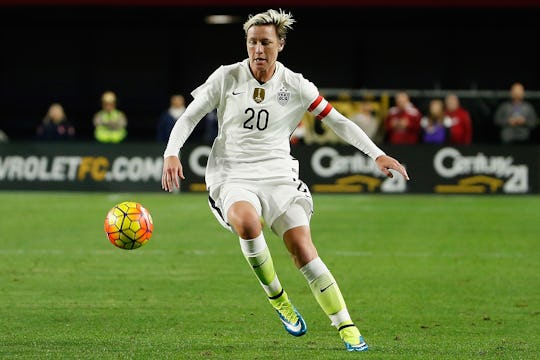 Christian Petersen/Getty Images Sport/Getty Images
Why Was Abby Wambach Arrested? The Soccer Star Says She Made A Mistake
Retired Olympic and World Cup soccer star Abby Wambach was arrested for allegedly driving under the influence in Portland, Oregon late Saturday evening. The former U.S. National Women's Team player, who lives in Portland, was reportedly returning home from a dinner at a friend's house when she was pulled over after running a red light. Portland police issued a statement on Sunday, in which the department noted that the details of Wambach's arrest were being released after numerous media inquiries.
According to the statement, the FIFA Women's World Cup Player of Year was pulled over at 11:05 p.m. local time. The approaching officer reportedly detected "signs that she was under the influence of alcohol." After Wambach failed a series of field sobriety tests, the 35-year-old Wambach was handcuffed and transported to the Central Precinct in downtown Portland where she reportedly failed a breathalyzer test as well.
According to a statement released by the Portland Police Bureau, Wambach was booked into the Multnomah County Jail on a charge of DUII—Driving Under the Influence of Intoxicants—but was released on her own recognizance shortly after processing. Officials said the two-time Olympic gold medalist was "polite and cooperative throughout the investigation."
Wambach released a statement about the arrest on Facebook Sunday morning saying,
Last night I was arrested for DUII in Portland after dinner at a friend's house. Those that know me, know that I have always demanded excellence from myself. I have let myself and others down. I take full responsibility for my actions. This is all on me. I promise that I will do whatever it takes to ensure my horrible mistake is never repeated. I am so sorry to my family, friends, fans and those that look to follow a better example. -Abby
Wambach was a star forward on the professional U.S. soccer team for 12 years. She was one of the most decorated players in women's soccer and she is the international, all-time leading career goal scorer—male or female—having scored 184 goals throughout her career.
Wambach retired in December 2015 after helping the national women's team to defeat Japan 5-2 and take home the prestigious World Cup title—the U.S.'s first since 1999.
Since retiring, she has become a vocal advocate in fighting for equal rights for female athletes. The gender pay gap in soccer has been in the news lately after five U.S. women's soccer players filed a federal complaint against U.S. Soccer last Thursday. Co-captains Carli Lloyd and Beck Sauerbrunn, goalkeeper Hope Solo, midfielder Megan Rapinoe, and forward Alex Morgan, who all play on the U.S. Women's National Team, argue in the complaint that while their team is more financially successful than the U.S. Men's National Team, the players are paid nearly four times less than their male counterparts.
In a December 2015 interview in Fortune, Wambach said of the realization that a female soccer player's salary is far less than a male soccer player's, "I started to reflect on my career and I started to get pissed." She told the Democrat and Chronicle, a local paper in Rochester, New York,
I'm going to get everybody I possibly can on board so we can figure out how to solve the problem of inequality and not just in sports, in every industry […] Enough is enough. I'm going to make it my mission that the next Alex Morgan [the highest-paid female soccer player] doesn't have to, when she decides to retire, figure out what the heck to do next.