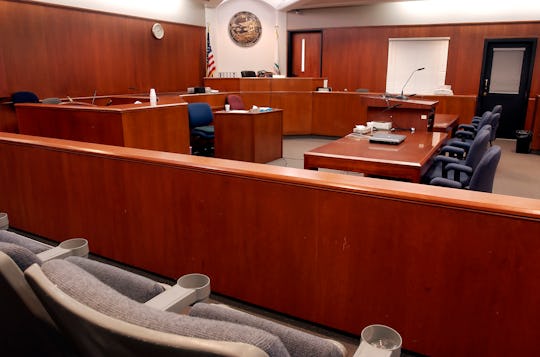 Pool/Getty Images Entertainment/Getty Images
Why Was Adnan Syed's Conviction Vacated? 'Serial' May Have Uncovered Inaccuracies
A Baltimore judge granted Adnan Syed, the subject from the hit podcast Serial, a new trial on Thursday. Syed had already served 16 years of his life sentence for the 1999 murder of ex-girlfriend Hae Min Lee. So, why was Adnan Syed's conviction vacated? The popular podcast may have uncovered some important inaccuracies in the case.
The decision comes after a three day post-conviction hearing this past February when Syed's legal team argued that his original lawyer, Maria Cristina Gutierrez, was ineffective because she never contacted key alibi witness Asia McClain, a classmate of Syed who claimed she saw him in the school's library after school for 15-20 minutes on January 13, 1999 (the day Lee was murdered). McClain, who now goes by her married name, Chapman, allegedly wrote two letters to Syed in in jail and told him she would be his alibi for that time period.
While the judge was not swayed by McClain's alibi, Syed's attorneys were able to successfully argue that crucial cell tower data that was presented to the jury, which had allegedly helped proved his guilt, was misleading.
"The data placed Syed at the burial site where Lee's body was found, but defense attorneys argue that the data only reflected outgoing calls, and any information gleaned about incoming calls was unreliable," the attorneys stated, according to a February CBS News report. "That warning was outlined in a cover sheet never given to jurors or the expert witness who reviewed the data."
Abraham Waranowitz, an AT&T engineer whose sworn statements were used to place Syed to where Lee's body was buried, claimed he was not shown the crucial warning about cell tower data and his testimony would have been different if he had been given the disclaimer.
According to court documents, Judge Martin Welch found that Syed's original attorney "rendered ineffective assistance when she failed to cross-examine the state's expert regarding the reliability of cell tower location evidence." Welch added that the "trial counsel's performance fell below the standard of reasonable professional judgement when she failed to cross-examine the state's cell tower expert regarding a disclaimer obtained as part of pre-trial discovery."
Although the defense team's argument for a retrial mostly focused on McClain's alibi, it was the issue the cell tower data that the judge vacated Syed's conviction.
According to The Baltimore Sun, Welch acknowledged the popularity of the Serial case, but he said he hadn't listened to it because it was not part of the case evidence.
Serial, one of the most popular podcasts in history, captured the attention of millions when it debuted. At a news conference on Thursday, Syed's lawyer C. Justin Brown said he doesn't think there would have been a chance of a retrial without the help of Serial.
"This case represents a unique juncture between the criminal justice system and a phenomenally strong public interest caused by modern media," Welch wrote in the court documents. "Regardless of the public interest surrounding this case, the court used its best efforts to address the merits of [Syed's] petition for post-conviction relief like it would in any other case that comes before the court, unfettered by sympathy, prejudice, or public opinion."