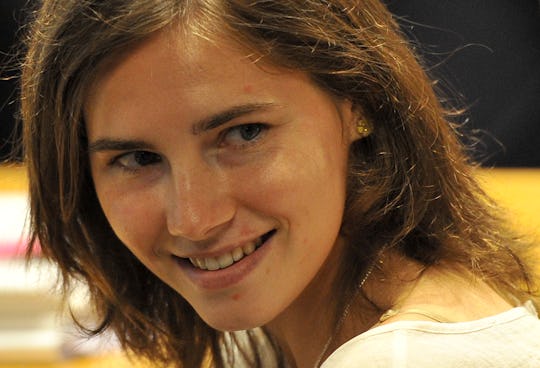 ALBERTO PIZZOLI/AFP/Getty Images
Why Was Amanda Knox Called Foxy Knoxy? The Name Took Over Headlines
The salacious details of Meredith Kercher's murder earned one of its prime suspects, her roommate Amanda Knox, a very headline-friendly nickname with the international tabloid media — "Foxy Knoxy." Netflix will debut a documentary based on the 2007 murder and the subsequent, unbelievable court proceedings on Sept. 30th, and it may lead you to wonder why Amanda Knox was called Foxy Knoxy. Her parents say it was a childhood nickname, earned on the soccer field in middle school, in reference to Knox's athletic skill. She grew up in Seattle and the details of her affluent upbringing became a part of the story the media would spin about her. And "Foxy Knoxy" was a character in that story.
Meredith Kercher was found stabbed to death and partly undressed, with evidence of sexual trauma, in her Perugia, Italy apartment on Nov. 1, 2007. Bruising around her nose and mouth indicated that someone had been forcefully restricting her breathing with their hands, and the prosecution painted a picture of a violent sex "game" turned deadly. They initially alleged that Amanda Knox, with the help of her boyfriend Raffaele Sollecito and another man named Rudy Guede, plotted a sexual torture scene ending in Kercher's death, simply because Knox didn't like her. Of course, the prosecution was never able to prove this was anything more than a theory, something that is very obvious in the Netflix documentary.
While both Knox and Sollecito were eventually acquitted by Italy's highest court (but not before being convicted twice), the court did conclude that three people were involved in Kercher's killing. Only Guede, whose bloody palm print was discovered under Kercher's body, was definitively charged with the murder, and the court believes the other two assassins are still at large.
While Amanda Knox is no longer attached to the crime, the name Foxy Knoxy does live on. According to CNN, the media was quick to use the nickname, which was found on Knox's MySpace page. Knox's parents, however, explained, "the high school moniker came from the way Knox played soccer, quick like a fox."
Because the case was widely sensationalized as the brutal murder of a British female college student studying abroad, with her attractive American female roommate and her attractive Italian boyfriend as the prime suspects, it drew British, American, and foreign tabloid coverage. The sexist nickname Foxy Knoxy was in wide circulation among the tabloids covering the case, which dragged on for years before Knox's name was finally cleared.