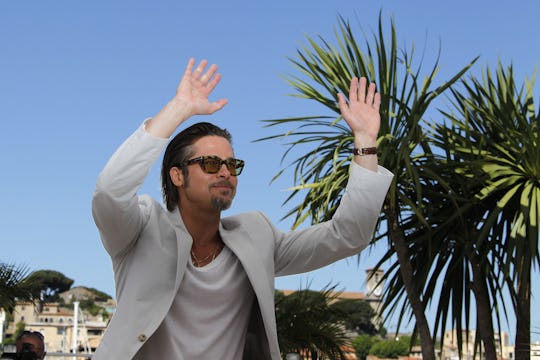 FRANCOIS GUILLOT/AFP/Getty Images
Why Was Brad Pitt Accused Of Child Abuse? The Reports Are Disturbing
It's time to put the Jennifer Aniston memes away because the divorce between Brad Pitt and Angelina Jolie just got real serious. If there was any gossip-y tabloid fun to have at the news that one of the world's most famous couples has called it quits, that's all over (though it shouldn't have happened in the first place, because, you know, it's their private business). Reports from TMZ and People are saying that an incident on the Jolie-Pitt's private plane was what prompted Jolie to file for divorce. Worst of all, now TMZ is reporting that Pitt has been accused of child abuse. Why was Brad Pitt accused of child abuse? The reports paint a disturbing picture of Pitt's parenting.
Romper reached out to Pitt's representatives and hasn't received a response. Reportedly, sources close to the actor offered this statement to TMZ: "He takes the matter very seriously and says he did not commit any abuse of his children," the source told TMZ. "It's unfortunate that people involved are continuing to present him in the worst possible light."
But according to KTLA, a spokesman for the Los Angeles Police Department denies they are investigating Pitt for child abuse. The Children and Family Services department did not confirm or deny the reports to KTLA.
The story, according to TMZ, goes like this: The whole family was on their private plane en route to Los Angeles on the night of Sept. 14. According to reports from one eyewitness, Pitt was drunk and became violent. When the plane reportedly landed, Pitt continued his antics on tarmac, reportedly trying to leave in a fuel truck. Someone who was working in the vicinity of the situation reportedly called the L.A. Department of Children and Family Services.
Of course, there is no proof that Pitt was drunk or that he physically harmed one of his children outside of the singular eyewitness report. The claim appears to be even more speculative now that LAPD is denying the investigation.
According to Hollywood Life, Jolie has taken her kids to a secret hideaway to protect them from the fallout of the split.
It's a harsh reminder that despite the more than 12 years of tabloid fodder Brangelina have served up for gossip mongers, that this split involves a real family going through a terrible time, and fans of the couple should respect that — regardless of what their personal opinions are of the family and Pitt or Jolie's work.