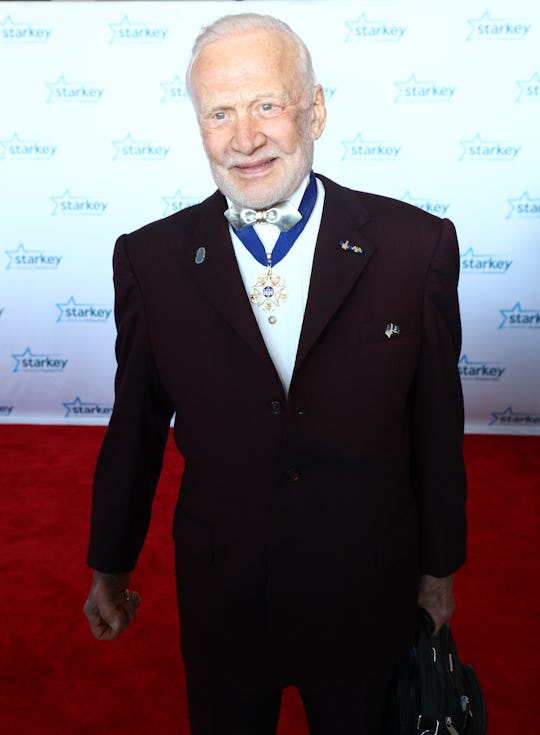 Why Was Buzz Aldrin At The South Pole? The 86-Year-Old Still Has A Lot To Explore
Climbing Mount Kilimanjaro and visiting the South Pole are dream adventures for many people, but seem like nightmares to others (cough, me). When you think of a thrill-seeker, the image that probably comes to mind is of a man in his 20s with a large backpack, scruffy beard, and who may or may not smell bad. But as it turns out, former astronaut Buzz Aldrin has become one of the South Pole's latest visitors, and had to be airlifted because of concerns for his health. So why was Buzz Aldrin at the South Pole?
The 86-year-old former astronaut, who walked on the moon with Apollo 11 in 1969, was evacuated from the South Pole on Thursday, The Washington Post reported. Aldrin reportedly was visiting the South Pole as a tourist.
In an interview with The Weekend Australian Magazine published in early November, Aldrin said he planned to visit the South Pole as an adventure. The former astronaut said the trip would be "comfortable," and that he'd be joined by his son and some of his friends.
The trip began on Nov. 29 and was originally supposed to end on Dec. 8, The Washington Post reported. But on Thursday, Aldrin's health deteriorated, according to a statement from White Desert, the tour company Aldrin was traveling with.
The decision to airlift Aldrin was made after U.S. Antarctic Program doctors consulted with a White Desert doctor about the former astronaut's health.
The National Science Foundation released a statement revealing that it provided the medical evacuation flight. The flight will eventually take Aldrin to New Zealand. Aldrin is in stable condition.
Visiting the South Pole is risky because conditions there are extremely harsh. In summer, temperatures on the South Pole average -18 degrees Fahrenheit – and Thursday's weather was -26 degrees.
Aldrin took to social media to share his excitement about the trip:
Despite his age, Aldrin is clearly still up for adventure. In an interview with The Weekend Australian, Aldrin joked that he'll slow down in about 10 years.
Also, my work at the Buzz Aldrin Space Institute in Florida, where I live, keeps me focused and motivated and driven, although that won't last forever; in another five or 10 years – at 95, say – it'll probably be time to slow down and turn it over to somebody else.
In recent years, Aldrin has served as senior faculty adviser for the Buzz Aldrin Space Institute at Florida Institute of Technology. One main reason Aldrin founded the institute is because he is a vocal advocate of finding a way for humans to reach Mars .
"No dream is too high," he said in an interview with National Geographic. "But, of course, going to Mars is much more difficult than going to the moon. It won't happen while I'm alive, unless I can live to 110."
Hopefully Aldrin makes a speedy recovery so he can get back to all of his adventures.