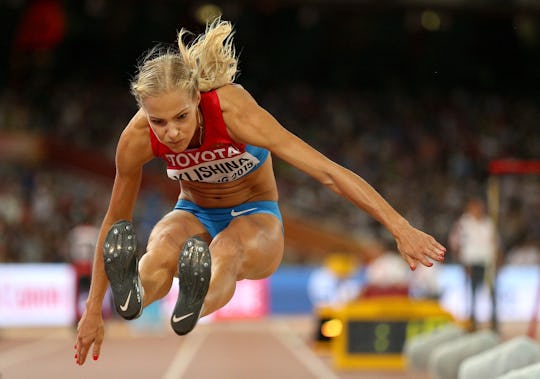 Patrick Smith/Getty Images Sport/Getty Images
Why Was Darya Klishina Suspended? The Russian Long Jumper Is Appealing The Decision
The one and only Russian track and field athlete who was cleared to compete in the Olympic Games this year after a doping scandal disqualified all of her teammates may not may not be permitted to display her long jumping prowess this week after all. On Saturday, the International Association of Athletics Federations suspended 25-year-old Darya Klishina, citing new but unspecified evidence that has reportedly emerged from a world report on athletes' alleged and confirmed use of performance-enhancing drugs. It was yet another blow to the already muddied Russian field.
In response to the revelation that many Russian Olympic athletes have been enmeshed in a government-sponsored doping program that stretches back to 2011 resulted in a blanket ban of Russian athletes from the events in Rio de Janeiro. International Olympics Committee Thomas Bach condemned the cheating as "a shocking and unprecedented attack on the integrity of sport," BBC News reported, but some Russians were subsequently cleared and allowed to compete. Having ostensibly proven she was clean — an assertion bolstered by the fact that she's based in the United States, not Russia — Klishina was one of them.
Now, though, she's been forced to appeal the decision to bar her from the long jump, which starts Tuesday, emphatically denying any wrongdoing and imploring the Court of Arbitration for Sport to settle the matter quickly.
In a Facebook post railing against the decision August 13, Klishina defended herself against these serious accusations and the accompanying sanction. "I am a clean athlete and have proved that already many times and beyond any doubt," she wrote, in part. A tone of outrage, dismay, and even sadness colored the rest of the post:
Based in the US for three years now, I have been almost exclusively tested outside of the Anti-Doping system in question. I am falling victim to those who created a system of manipulating our beautiful sport and is guilty of using it for political purposes.
I will take every possible effort to protect my clean image as an athlete. At this moment I cannot help but feel betrayed by a system that is not focused on keeping the sport clean and supporting rank-and-file athletes, but rather seeking victories outside sport arenas.
The court is expected to rule on the validity of Klishina's appeal on either Sunday or Monday, according to The Huffington Post. If she's not successful, no Russians will compete in the track and field events, as she was the only athlete in the sport whose appeal was accepted after the original exposure of the doping practices of the Russian team as a whole.
In July, BBC News reported that an investigation that the World Anti-Doping Agency commissioned had uncovered evidence of a widespread and pervasive doping culture that was sanctioned at the highest levels. The former head of Russia's national anti-doping laboratory, for example, admitted to having personally doped dozens of athletes ahead of the 2014 Winter Games, which Russia hosted. The whistleblower, Grigory Rodchenkov, also said the organization had developed a method to surreptitiously replace athletes' "dirty" urine samples with "clean" ones.
The potential for Klishina's appeal to be denied presents what would surely be a devastating blow for the long jumper herself as well as the undoubtedly already-low morale among the Russian Olympic team in general and the beleaguered track and field team in particular. The best-case scenario is that an expedient process will fairly arbitrate and give Klishina the opportunity to be her team's sole representative if and only if she truly deserves it.