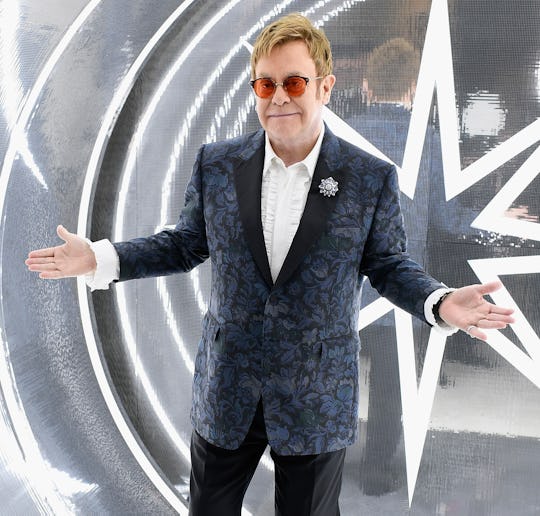 Dimitrios Kambouris/Getty Images Entertainment/Getty Images
Elton John Cancels Shows After Being Hospitalized
Shortly after returning home from his South American tour, Elton John was reportedly hospitalized and has since canceled all of his Las Vegas performances throughout the next month, Variety reported on Monday. Although the iconic singer had major gigs planned for the rest of April and into May at the Colosseum at Caesars Palace, a rare illness has reportedly left him unable to perform. So, why exactly was he hospitalized and when is he expected to make a full recovery?
"During his return flight home from Santiago, Chile, he became violently ill," the singer's reps said in a statement issued on Monday, according to The Los Angeles Times. Once he returned home to the United Kingdom earlier this month, he was reportedly admitted to the hospital and spent two nights in intensive care where he underwent immediate treatment to remove the infection, which was "rare and potentially deadly," according to the statement.
Variety reported that he was released from the hospital on Saturday, April 22, and is now "comfortably resting at home per doctor's advice." According to ABC News, the "Rocket Man" singer is expected to make a full recovery by early June, when he is set to perform a live show in Twickenham, England, on June 3.
"I am so fortunate to have the most incredible and loyal fans and apologize for disappointing them," the 70-year-old singer said in a statement, according to ABC News. "I am extremely grateful to the medical team for their excellence in looking after me so well."
According to The Los Angeles Times, ticket holders for his cancelled performances on April 28-29, May 1, and May 4-5 at the Colosseum can get refunds. Those who paid by credit card can receive a refund credited to that card and those who paid cash can request a refund at the original point of sale.
John's reps did not identify the type of infection that led to his hospitalization. There are, however, a number of mosquito-borne illnesses — including Dengue fever, Malaria and the Zika virus — that are common throughout parts of South America. Travelers' diarrhea caused by a range of bacteria, viruses, or protozoa is also common in the region. John's "Wonderful Crazy Night Tour" included four dates in Brazil and one performance in Chile.
Fortunately, the doctors that treated John were able to identify the infection quickly and treat it successfully. After a close call with appendicitis in 2016, the father of two certainly didn't waste any time seeking medical attention this time around and fans will see him back on stage very soon.