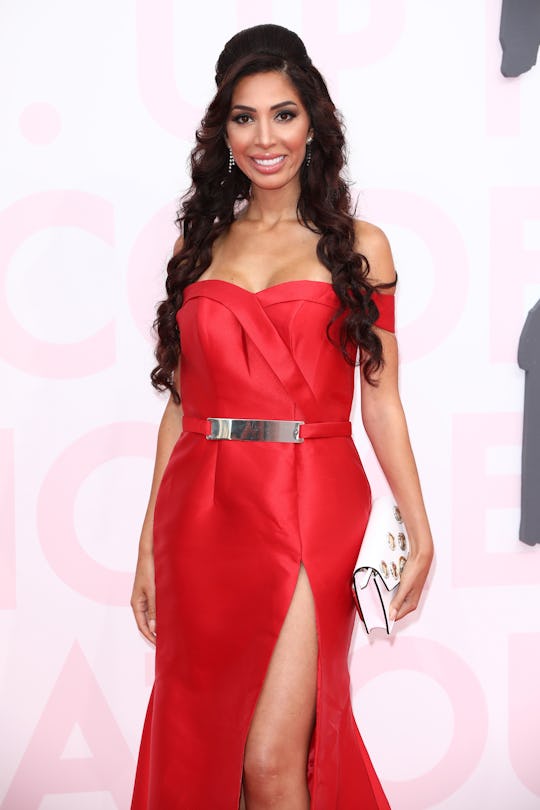 John Phillips/Getty Images Entertainment/Getty Images
Fans Are Concerned For Farrah Abraham After Her Arrest, & It Brings Up An Important Issue
Teen Mom OG star Farrah Abraham's life these past few years has been a bit rocky. After leaving MTV in October 2017 under controversial circumstances, Abraham struggled to find her footing professionally. And while Abraham seemed to be doing better in recent months, she hit another road bump when she was arrested on Tuesday night at the Beverly Hills Hotel in Los Angeles. As for why Farrah Abraham was arrested, she allegedly assaulted a hotel employee during an argument, according to TMZ. Officers also charged Abraham with trespassing because she allegedly refused to leave the property when asked. Abraham did not immediately respond to Romper's request for comment. Obviously, this is a difficult time for Abraham and her 9-year-old daughter, Sophia, and some fans are genuinely concerned for their well-being. Considering Sophia and Abraham need all the support they can get right now, the well-wishes are encouraging.
Following a long vacation in Dubai and other trendy locales, Abraham and Sophia returned to their new home in Los Angeles earlier this week. And on the surface, all appeared well — from pics of Abraham hanging out in sunny LA with friends to a post about her 2012 book, nothing seemed amiss in her life. Of course, you can't tell how a person is really doing by their Instagram feed, and it's common knowledge that Abraham has experienced traumatic events in her past.
Sadly, it looks like Abraham reached a breaking point on Tuesday night when she allegedly struck a Beverly Hills Hotel security guard in the face. Abraham — who was pictured at the establishment earlier that day — allegedly attacked the employee after she got into an argument with fellow guests. When the security guard removed Abraham from the property, she reportedly tried to get back in by force. TMZ claims Abraham grabbed the security guard's ear and pushed his head down after she allegedly struck him in the face. Officers on the scene believe alcohol might have played a factor in the incident.
Abraham was then booked at 1:48 a.m. Pacific Standard Time, and she's reportedly being held on $500 bail. The whole thing is a very unfortunate situation all around.
Following the news, the typical negative comments against Abraham made the rounds.
"It was only a matter of time before Farrah Abraham got arrested, horrible creature," one person wrote on Twitter.
@F1abraham I mean what kind of trash gets arrested for a fight at the Beverly Hills Hotel??? Stay at Best Western next time. Much better for you. #FarrahAbraham.
For others, however, the dialogue regarding Abraham's arrest is disturbing. Not only is it a tad bizarre to revel in someone else's misfortune, it's also worrisome to watch people tear down the mother of a young child. If Abraham isn't doing well, there's a good chance Sophia is also suffering. Fans should want the best for Abraham because that's the healthiest scenario for Sophia.
Fortunately, not every fan is here for the Abraham bashing. One fan on Reddit penned:
It's really sad, but I'm not surprised something like this happened. I hope she uses it as a learning and growing experience and gets some help. It's been obvious for a while she's on some sort of downward spiral and has some issues that real, non-filmed therapy could help. Wishing the best for her and Sophia as I'm sure this will affect her too...
" ... I hope Farrah will be okay," someone else wrote.
"I really really hope Sophia didn't witness this," another person added. "My heart goes out to that girl. That's got to be hard hearing your mom got arrested."
"Here to support you Farrah," a fan commented on Instagram. "Woman to woman. Get right back up!!!!"
Fans can only hope Abraham is able to find peace and well-being following this arrest. Although no one knows exactly what Abraham is going through at the moment, it's clear she and Sophia need support more than they need negativity.