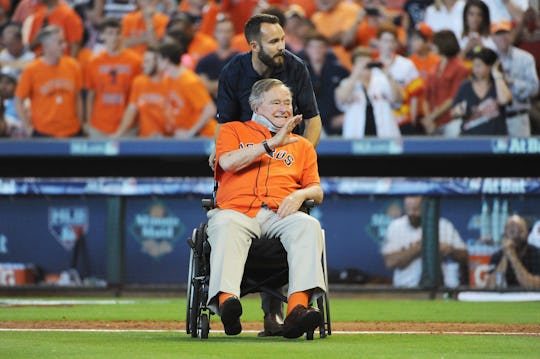 Eric Christian Smith/Getty Images Sport/Getty Images
Why Was George HW Bush Hospitalized?
On Wednesday morning, former president George H.W. Bush's spokesman, Jim McGrath, revealed that the 92-year-old has been hospitalized at Houston Methodist Hospital since Saturday, according to CNN. Those wondering why George H.W. Bush was hospitalized needn't worry too much, however. The original issue was shortness of breath, and Bush's chief of staff, Jean Becker, said that he's "doing fine." Additionally, McGrath told CNN that Bush is expected to be released shortly. Bush had already planned not to attend the presidential inauguration on Friday with the other former presidents due to health concerns.
Speaking to the Houston Chronicle, Becker said that Bush is "doing really well," and while doctors haven't nailed now the cause of his breathing issues, he is responding well to treatment. He's expected to be discharged by the end of the week. Bush was similarly hospitalized for shortness of breath just over two years ago, at the same hospital, and was released after a week. In November 2012, the former president was admitted to Houston Methodist due to bronchitis and a persistent cough, which doctors feared would develop into pneumonia. He spent two months in the hospital before finally being released in January 2013 with an order for physical therapy.
But the 2012 episode is actually out of character for Bush; he's historically been rather fast to recover from illness and injuries. In July 2015, he broke a vertebrae in his neck after falling at his summer home in Kennebunkport, Maine. While doctors described it as a "significant injury" to CNN, Bush was released from the hospital just four days later with a neck brace, and made a full recovery.
According to the Associated Press, Bush has a form of Parkinson's disease which has rendered him unable to walk, and he relies on the use of a motorized scooter and a wheelchair to get around. Despite his condition, he remains quite active. He celebrated his 90th birthday by skydiving, just as he did for his 80th and 85th birthdays. According to USA Today, it was his eighth jump. His first was under considerably less celebratory circumstances; in 1944, his fighter plane was shot down over the Pacific during World War II. Last summer, Bush was still well enough to host a fishing trip for wounded veterans, and captained the speedboat himself. After his 2012 episode, Becker sent out a statement saying that Bush "would ask me to tell you to please 'put the harps back in the closet,'" and added that he "has every intention of staying put."