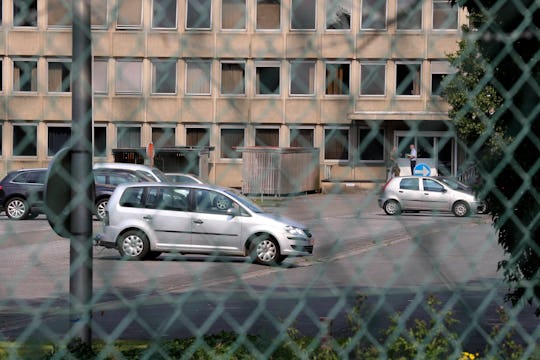 NICOLAS MAETERLINCK/AFP/Getty Images
Why Was Justin Ross Harris Charged In His Son's Death? The Case Is Controversial
This week marked the beginning of the trial of Georgia man Justin Ross Harris, who allegedly left his 22-month-old son in a hot car in 2014, which led to the boy's death by hyperthermia. While this was a horrible, tragic incident, many are wondering if there actually was a criminal element. Why was Justin Ross Harris charged in his son's death? As it turns out, there were reasons authorities suspected foul play.
The incident occurred on a hot June day in Marietta, Georgia. According to CNN's report, Harris, who was 33 at the time, left his house, drove to a Chick-fil-A, then drove directly to work, allegedly failing to drop his son off at daycare on the way. The boy, Cooper, was strapped into a rear-facing carseat in the back. According to Harris' defense attorneys, Harris reportedly bought light bulbs during his lunch break and put them in his car before returning to work. He did not notice his son in the car at that time, according to the defense. It wasn't until he left work around 4 p.m. that Harris reportedly noticed his son, pulled into a nearby parking lot, and pulled his son, who was dead, out of the car. A crowd of onlookers attested that Harris was screaming and hyperventilating, according to CNN.
But according to assistant district attorney Chuck Boring's opening statements on Monday, in addition to screaming, Harris also repeatedly said, "What have I done?"
In September 2014, several months after Cooper's death, a grand jury in Georgia indicted Harris on eight criminal counts, including two counts of felony murder and cruelty to children in the first degree, according to The Daily Mail. If convicted, Harris might face life in prison.
Every summer, there are dozens of reports nationally about babies and young children dying after being left in a hot car. These cases are usually seen as horrible accidents. In this case, though, prosecutors argued that Harris' motives were suspicious. Onlookers and law enforcement officials who observed Harris in the hours after discovering his son claimed that Harris didn't behave as parents typically might in this situation: He didn't call 911, allegedly didn't cry, and reportedly seemed worried about his own fate rather than what had happened to his son, according to AL.com, a local Alabama news outlet.
Investigators claimed that Harris was allegedly having extramarital affairs and frequent online sexual contact with a variety of women. On the day that Cooper died, Harris was allegedly "sexting" with an underage girl, according to prosecutors. Investigators found that shortly before the incident, Harris allegedly conducted online searches relating to babies in hot cars, and also searched for "how to survive prison," according to prosecutors. According to Phillip Stoddard, the prosecution's lead investigator, Cooper's mother, Leanna Harris, met her then-husband at the police station the evening of Cooper's death. "Did you say too much?" she allegedly asked her husband.
The case has attracted pronounced local interest — so much that prosecutors successfully lobbied for a change of trial venue from metro Atlanta to Brunswick, Georgia because prospective jurors near Atlanta had been biased by extensive media coverage that painted Harris in a negative light, according to CNN. The current jurors in Brunswick number sixteen: eight men, eight women.
Harris has pleaded not guilty. His defense attorneys argued in opening statements this week that the incident was a tragic yet understandable accident of forgetfulness. Romper has reached out to Harris' defense team regarding the trial, and did not hear back at the time of publishing.
The trial will be six weeks long. Whatever happens in the end, all the public can hope is for justice to eventually be served.