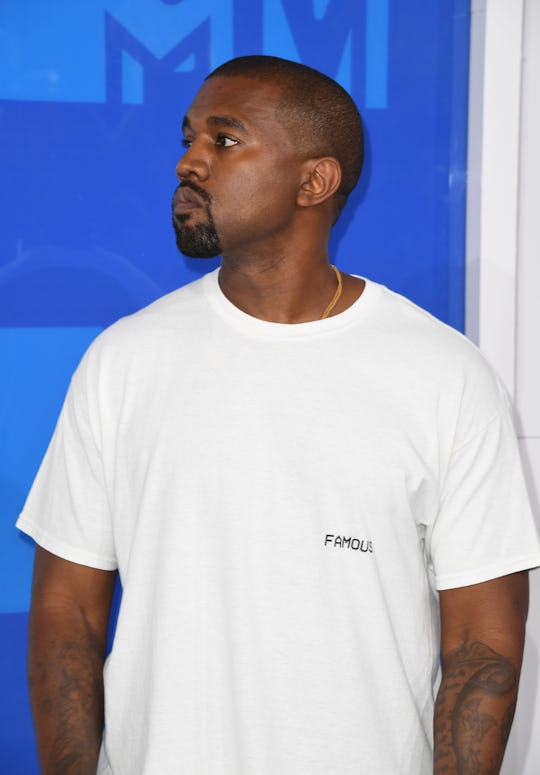 ANGELA WEISS/AFP/Getty Images
Why Was Kanye West Hospitalized? He's Reportedly Under Observation In Los Angeles
NBC News reported on Monday night that rapper Kanye West has been hospitalized. This information came less than a day after it was announced that West's Saint Pablo tour had been cancelled, leading some to speculate that the cancellation and the hospitalization were linked. So why was Kanye West hospitalized? He's reportedly under observation at an unnamed Los Angeles hospital, and while the precise reasons are unknown, sources suggest that the hospitalization is a matter of his own safety.
A source familiar with the situation told NBC News that the Los Angeles police interacted with West after receiving a "medical welfare call" at 1:20 p.m. local time. According to multiple unnamed sources, "no criminal activity" was involved, and West was hospitalized "for his own health and safety." According to The Los Angeles Times, the police department handed West's case to the Los Angeles Fire Department upon determining that the situation was a "medical emergency" rather than a "disturbance."
West's hospitalization appears to be the culmination of a series of bizarre public displays that occurred over the last week. At a concert in San Jose, California on Thursday, West went on a rant about the 2016 presidential elections, and told the crowd that while he didn't vote, he would have voted for president-elect Donald Trump if given the chance. This entirely unsolicited admission was met with boos and scattered claps. At the same concert, West suggested that black people should "stop focusing on racism."
On Saturday, just two days after these statements about Trump, the rapper abruptly cut short a concert in Sacramento, California, after having arrived on stage one and a half hours late, according to Billboard. After playing a few songs, West commenced a monologue about fellow musicians Beyonce and Jay Z. He asked Jay Z to "call me," and lamented that his fellow A-list musicians "be playing politics too much." He also complained about Google, the radio, and accused the press of writing "passive aggressive, LeBron James racist comments."
Shortly before news of West's hospitalization broke, TMZ reported that West was suffering from exhaustion due to the demands of his fashion company and concert tour. On Sunday night, West's possibly deteriorating mental state was evident on Instagram, where he posted 99 photos of the fashion designer Margiela's products, many of them blurry.
As the details of West's hospitalization continue to emerge, fans across the country are hoping for a speedy and healthy recovery.