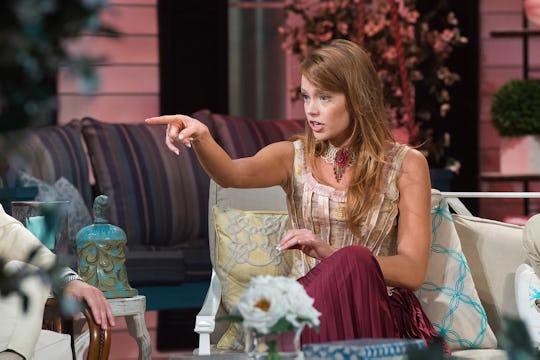 Charles Sykes/Bravo
Kathryn Is On The Road To Recovery On 'Southern Charm'
In the Season 4 premiere of Southern Charm, Kathryn Calhoun Dennis returned to Charleston following a stint in rehab in California and everyone was waiting to see just how different things might be now that she's back. Last time viewers saw Kathryn, she was hurling accusations at her ex, Thomas Ravenel, and Landon Clements about their alleged involvement with one another, though some time away from the gossip and drama in Charleston might have given her a new perspective. But why was Kathryn in rehab on Southern Charm?
It seemed to have something to do with Kathryn and Thomas' ongoing custody battle over their two children Kensington and St. Julien. Based on things said by her co-stars in the premiere, Kathryn allegedly failed a drug test, which resulted in Thomas getting primary custody until Kathryn went to rehab and could pass a second drug test. Then perhaps a new arrangement could be determined. The specifics of the situation are unclear, but considering this is obviously a sensitive and personal situation, Kathryn shouldn't feel compelled to share more than she's comfortable with about it.
However, while she may not be talking about what led her to rehab, she has been open about how much rehab has helped her.
Kathryn told Entertainment Tonight that after rehab, she felt more like herself than she had in a long time. "You know, there's such a stigma around when I went through, and there shouldn't be," she said. "What I went through wasn't just addressing drug, alcohol, whatever. It was more beneficial in, like, life skills. Honestly, in a way I feel like everyone should go to some type of rehab, because you just learn so much about people and life, and I think that's really been key in, like, resolving my own issues."
Filming Southern Charm sober was also a new experience for her, but a similarly positive one. According to Kathryn, approaching the show post-rehab definitely gave her a new way of looking at things. In the same Entertainment Tonight interview, Kathryn said, "I think that people will be surprised at how easygoing and normal I can be. It's going to be so different, and in good ways, I hope. I know they're good for me, but hell if I know about anything of the others."
It seems like instead of focusing on the drama, Kathryn will try to focus on herself and her kids as she continues on her path towards recovery.